In Window on the Bay by Debbie Macomber, ICU nurse Jenna and librarian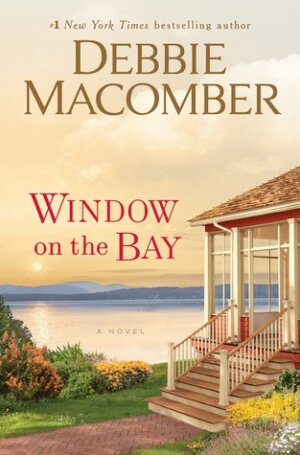 Maureen have been best friends since their college days. Through all of the ups and downs of life: marriage, raising children, their unfortunate divorces, and the normal day to day drudgery, they've had each other's back. And one thing remains on their horizon as a reward for all they've endured. Now that Jenna's two children are adults, both in college, and Maureen's daughter is married and contemplating starting a family, it's time for them to fulfill their dream of a trip to Paris. But life has other plans–as is typically the case.
'I longed for the days when I would be free from the burdens of being a single parent. Now that the time had arrived, I found myself afraid to open the door to this next stage of my life.'
First, Jenna's mother has a bad fall and breaks her hip. While her mom begins healing nicely after having surgery, it's Jenna that is thrown for a loop when she can't stop thinking about surgeon Dr. Rowan Lancaster. Something that is very much unlike her. But she can't deny their chemistry. As she falls more and more for the talented doctor, Jenna's kids begin to worry her with their choices while at college. To top it all off, Maureen finds herself smitten with a man who should be her polar opposite but who charms her with their every interaction. And she figures out she's not so great at the whole dating scene. It's a good thing Jenna and Maureen have each other to get them through the tough times. Because it will take them both to sort through the mess their lives become before they can find their silver lining.
"I can assure you I don't need a man."
"You need a man who understands and appreciates you for the woman you are… The problem is, you won't give a guy a chance."
Again, I was at a loss for a comeback. Although it was painful, I had to admit that he might be right.
A novel filled with warmth and the charming characters you expect from Debbie Macomber, Window on the the Bay was all about change, friendship, and our heroines stretching out their wings as they opened their hearts up to love once again.
'I curled up on the padded bench that looked out on Puget Sound. After taking in several deep breaths, I let the view calm me.
My window on the bay.'
First of all, how lovely is that cover? It makes me want to pull up a chair and bask in the sun on that porch with its picturesque view! And it really fits this story well. One of our heroines, Jenna, spent quite a few contemplative moments snuggled up on her window seat that overlooked the water, while trying to wade through emotions and tough situations. I so love how Macomber always gets right to heart of the matter in her books and this time we had three main POVs to enjoy: Jenna, her daughter Allie, and Jenna's best friend since college, Maureen. They were all going through some big changes in their lives and it felt like their feelings were so well described, whether good or bad, that I was right there with them in each scene.
Now I will admit that the way Maureen and Jenna treated their love interests, Logan and Rowan, respectively, gave me pause. The ladies were a bit too quick in my opinion to judge and didn't let their guys explain where they were coming from or what the truth was about certain situations. I can say that it was certainly a learning experience for Jenna and Maureen. Although, Macomber did show them the err of their ways and made them earn back their guys' good graces, thankfully.
It was also fun, for me at least, being close to their age, to read about two women who were in their mid-forties, as well as the fact that they were empty-nesters. I haven't read a whole lot of books with this age bracket or premise so it was interesting to see how different it was for Maureen and Jenna to get back into the dating world. There was more maturity (for the most part). They had a good idea what they did and didn't want in a relationship. And the guys they fell for? Rowan and Logan were two great choices, albeit very different from each other. But then again Jenna and Maureen had different personalities as well, so it worked.
Window on the Bay was the type of novel to sit down and savor. Between its heartfelt messages of family, sisterhood, and the joy of newfound love, not to mention sweet HEAs all around, you can't go wrong picking this book up right away–as with anything by Debbie Macomber.
Book Info:

Publication: July 16th 2019 | Ballantine Books |
When a single mom becomes an "empty nester," she spreads her wings to rediscover herself–and her passions–in this heartwarming novel from #1 New York Times bestselling author Debbie Macomber.
Jenna Boltz's life is at a crossroads. After a messy divorce from her surgeon husband nearly twenty years ago, she raised her two children on her own, juggling motherhood with her beloved job as a Seattle intensive-care nurse. Now that Paul and Allie have gone to college and moved out, Jenna can't help but wonder what her future holds.
Her best friend, Maureen, is excited for Jenna's newfound independence. Now is the perfect time to finally book the trip to Paris they've been dreaming of since their college days. But when it comes to life's other great adventure—dating—Jenna still isn't sure she's ready to let love in . . . until an unexpected encounter begins to change her mind.
When Jenna's elderly mother breaks her hip, Dr. Rowan Lancaster saves the day. Despite his silent, stoic exterior, Rowan is immediately smitten with Jenna. And even though Jenna is hesitant about becoming involved with another surgeon, she has to admit that she's more than a little intrigued. But when Jenna's children approach her with shocking news, she realizes that she needs to have faith in love and embrace the unexpected—before the life she has always dreamed of passes her by.