In Good in Bed (Cannie Shapiro #1) by Jennifer Weiner, Life has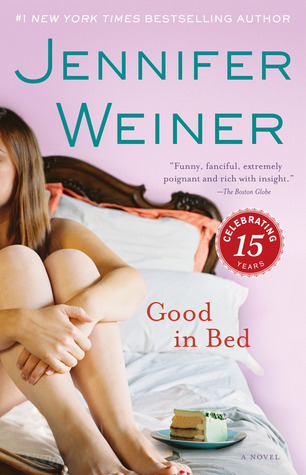 been rolling along for reporter Cannie Shapiro in a good way. She has a job she loves, a family that might be fractured but is still functioning, since her father took off and her mother announced she was gay. She has a cute little dog to share her time and her Philadelphia apartment with. But Cannie realizes too late that she made a mistake in asking for a break with her boyfriend Bruce. And her plans to try for another chance with him are thrown aside when she discovers the article he wrote in a well-known magazine about his relationship with her, titled "Good in Bed".
"Love," I said, "is the rug they pull out from under you. Love is Lucy always lifting the football at the last second so that Charlie Brown falls on his ass. Love is something that every time you believe in it, it goes away. Love is for suckers, and I'm not going to be a sucker ever again."
Let's just say that reading how the former love of her life found it was a trial to be seen with a plus-size woman like herself was eye-opening for Cannie. And not in a good way. So she sets out to prove to herself that she can be happy even if she's not a size two or a size five. She tries to get healthy, focus on her career and her aspirations to publish her screenplay, and maybe even date again. But just when things are looking up, everything begins to fall apart. Soon Cannie finds herself in a very dark place, struggling to go from one day to the next. It will take some serious soul-searching along with her friends and loved ones to pull herself up and find her path again.
"But what we're really trapped by is perceptions. You think you need to lose weight for someone to love you. I think if I gain weight, no one will love me. What we really need," she said, pounding the bar for emphasis, "is to just stop thinking of ourselves as bodies and start thinking of ourselves as people."
The fifteenth anniversary of Good in Bed's release brought this into my radar as a chance to finally see what all the fuss has been about. And after much laughter, some tears and shouts of frustration, I can honestly say that I get it. I can see why readers were so charmed with Cannie Shapiro, her wit and cynicism, and her struggles as a 'Larger Lady' in a world of size fives.
'And, ultimately, I learned, there is comfort. Comfort in reaching out to the people who love you, comfort in asking for help, and in realizing, finally, that I am valued, treasured, loved, even if I am never going to be smaller than a size sixteen, even if my story doesn't have the Hollywood-perfect happy ending…'
I think Good in Bed will probably be a love-it-or-hate-it type of book for readers. For those who have dealt with some of the same situations Cannie found herself in (being overweight, doubting a decision after breaking up with a boyfriend, having abandonment issues) they will both commiserate with her and will laugh with how she tried her best to make light of things as much as she could. Yes, she could be whiny, self-doubting and self-absorbed, with the majority of the conversations with her friends being all about her problems. But I feel like we've all had those moments. (Maybe not so many, but still.) Plus, this was a narrative so there is inherently a large amount of inner monologue and self-introspection in these stories overall anyway.
Cannie was easy for me to like and to empathize with most of the time. I felt her pain in regard to body image and abandonment issues and even though some of the similarities stopped there, I understood how it all added up to a lack of self-confidence. I think Jennifer Weiner did a great job of really capturing and putting into words perfectly how Cannie felt inside. She may have seemed brave and sassy to her coworkers, but inside she was a mess. Her family and friends knew this, all of them having their own issues of course, and each was supportive in their own unique way. I thought the secondary characters: her mother, her best friend, siblings, and even a Hollywood movie star, all held their own very well and had important parts in Cannie's journey along the way.
Funny and poignant, sad and joyful, Good in Bed was a smartly written debut novel that was realistic to the point of being awkward and cringe-worthy at times with the blunt truths our heroine Cannie had to face. But face them she did, proving to the world that you can be successful and happy at any size and at any time in your life.
Book Info:

Published 2001 | Simon & Schuster | Cannie Shapiro #1
Cannie Shapiro never wanted to be famous. The smart, sharp, plus-sized reporter was perfectly happy writing about other people's lives for her local newspaper. And for the past twenty-eight years, things have been tripping along nicely for Cannie. Sure, her mother has come charging out of the closet, and her father has long since dropped out of her world. But she loves her job, her friends, her dog and her life. She loves her apartment and her commodious, quilt-lined bed. She has made a tenuous peace with her body and she even felt okay about ending her relationship with her boyfriend Bruce. But now this…
'Loving a larger woman is an act of courage in our world,' Bruce has written in a national woman's magazine. And Cannie – who never knew that Bruce saw her as a larger woman, or thought that loving her was an act of courage – is plunged into misery, and the most amazing year of her life.