The Guardian's Virgin Ward by Caitlin Crews is part of the One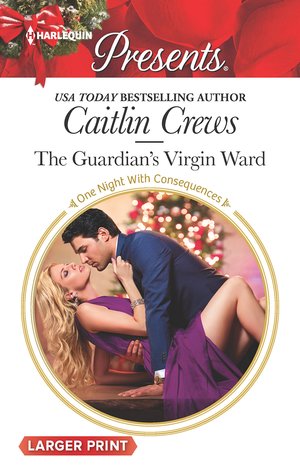 Night with Consequences series, written by several different authors. The series name gives a pretty clear indication of what's going to drive the plot and the title takes a present day twist on what is more commonly seen in a historical romance but works well in this story of strangers bound by fate.
Liliana Gerard Brooks is an orphaned heiress, her loving parents having died tragically several years earlier. They'd left their best friend and business partner, Izar Agustin as her guardian. Just under 30 years himself, Izar didn't know what to do with the girl in his care and sent her off to boarding school in the Alps for her formative years. Liliana grew into a beautiful young woman, her contact with Izar always impersonal. Once she went to college in the United States, she managed to get out from under his thumb, deceiving him into thinking she was living in an old family home when in fact she'd moved in with friends in a sketchy part of town. When Izar becomes aware of her situation (a heads up from a paparazzi looking to make a scoop), he swoops in to take care of things, expecting little resistance. But the Liliana of his memory is not the stunning woman in front of him. Struck with an equal attraction, they sleep together, Liliana losing her virginity to Izar. But with that act, she's also lost her freedom, as Izar insists that they go back together to Europe, and that she must now become his wife. Liliana has purposefully put her heritage out of her mind, but when confronted with the reality of her wealth, her clothes and the lifestyle that she could have with Izar it's hard to remember why she'd choose something else. But will she be willing to settle for anything less than love?
I liked this story. It's the first Caitlin Crews book I've read (though I've read several of her books written under the Megan Crane pen name) and as I expected she has a flowing writing style and engaging characters. Izar comes across as a powerful figure, an arrogant but charming man. He's a bit of an enigma with Liliana though, mostly because he is struck by her beauty and his desire for her. He tries to maintain his composure around her but doesn't always succeed. He's definitely used to women falling at his feet so he has expectations that Liliana will fall into line with him, though she is clear that she doesn't think much of his proposal. Still it doesn't take long for him to persuade her that a life with him won't be so bad. Their love scenes are sensual and well written, and Liliana can see past the facade Izar puts up for the rest of the world. I would have liked to see a bit more grovelling from Izar, and a bit more agency from Liliana. I felt that she gave into Izar's demands a bit too easily and wanted her to stand up more for herself, even as she was falling in love with him. Still at the end there is the definite sense that they have an equal amount of power over each other and they get their happy ever after. It's an enjoyable read.
Book Info:

Publication: Nov 22, 2016 | Harlequin Presents | One Night With Consequences #25
He was her formidable guardian…and she craved his touch!
When domineering Spaniard Izar Agustin was made guardian to innocent Liliana Girard Brooks, he couldn't have known that the passing years would turn this young girl into an alluring woman begging to be shown the unconscious desires of her body.
For as long as she can remember, Liliana's coolly elusive keeper has haunted her fevered imagination. Hoping to sever the ties that bind them, she recklessly gives in to one night of sensual abandon, shattering her naive fantasies irrevocably. But the consequences of that night will bind them together…forever!