Hot & Heavy by Tracy Wolff: Sage yearns for stability and has found her passion in numbers. While she's a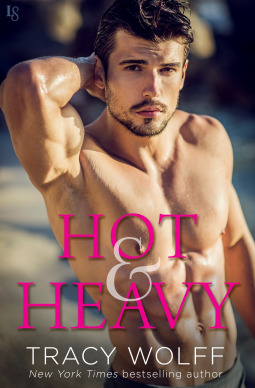 great yoga teacher, she has no use for some parts of the yogi lifestyle. She is smart, stable, strong, and attempts to keep her mom's yoga studio running smoothly.
Shawn is one of the best wide receivers in football and he's got a group of friends in his teammates. Despite a great career and the hefty fines he racks up, he lives for any number of adventurous and dangerous sports like cliff diving, free-climbing, and free diving for the adrenaline rush. Shawn is sexy and charming, but also sweet and generous.
Shawn doesn't have to work for a woman's time and attention between his celebrity, body, looks, and money. But the sassy Sage is an entirely different story. The sparks are apparent from the first time they see each other, and he has to put forth a whole lot more effort than usual.
"I want to talk about a lot of things."
"Yeah, well, your back is the only one on the table right now."
I follow her into the long hallway she ran down earlier. "You drive a hard bargain."
"You have no idea."
Taking yoga classes from Sage is a great way to keep her in his life. He needs her help to prepare for the next season and it gives him a better chance at convincing her to take a chance on him. After keeping all women at arm's length, Shawn is ready for more. She definitely challenges him in many ways and he shows her that he is more than just an adrenaline junkie.
"Free-climbing."
"Yeah, it's where you-"
"I know what free-climbing is. I'm not a moron." Her voice says, very clearly, that the same can't be said for me. "Alone?"
Hot & Heavy is a smoldering opposites attract romance. Tracy Wolff created a quick paced sports romance with banter, heat, family, and just enough conflict. Ms. Wolff provided an entertaining cast of characters in their friends. Hot & Heavy can be read as a standalone in the Lightning series. Fans of Jeannette Murray and Maggie Wells will enjoy Hot & Heavy.

Book Info:

Publication: July 17th 2018 | Loveswept | Lightning #2
When a daredevil football stud tries to get into your yoga pants, you know class is about to get interesting. The New York Times bestselling author of Down & Dirty returns with Hot & Heavy.
Sage: Although I come from a long line of free-spirited yoga teachers, sometimes I wish my life could be just a little more normal. More ordinary. More boring. Easier said than done, especially since it's on me to keep my family's studio up and running every time my mother wanders off to find herself. But that's when my best friend sends me a sexy new student: Shawn Wilson, a slick wide receiver with a death wish and a chip on his broad, muscular, irresistible . . . wait, what were we talking about again?
Shawn: They say I'm an adrenaline junkie. The truth is, I only really feel alive when I'm risking my life: Snowboarding, parachuting, BASE jumping . . . the kind of fun team management considers breach of contract. When my coach orders me to take yoga to "center myself," I'm pissed—until I get an eyeful of delectable, flexible Sage Kaufmann. Unfortunately, she's determined to keep things between us strictly business. But if Sage can get me to enjoy downward dog, maybe I can convince her that scorching hot sex could be the perfect shot of adrenaline.