In Guarding Antonia (Guardian SEALs #6) by Nicole Flockton, what happens in Vegas stays in Vegas or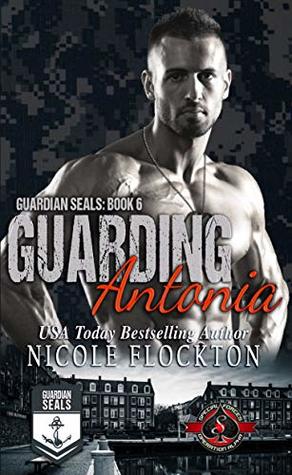 so Antonia Rocca thought. So, when she learns that her marriage to Brendan 'Robot' Dean wasn't annulled like she thought it had been, she's determined to make sure she corrects that particular mistake. However, when she witnesses a murder, Antonia finds she's going to need Brendan more than ever. Will she and Brendan get their second chance at forever after or will they go their separate ways once she's safe from the killer?
An instant later he'd gathered his composure and the glimpse of a man she was sure no one over saw, disappeared. "Do you know that's the first time you've said you're my wife?"
She allowed herself a small grin. "It looks like it unlocked the speaker's block you were having. So, how about you ride that pony all the way home."
"Where the hell are you getting these analogies from?"
She shrugged. Words were popping in her mind and she was blurting them out. Not something she normally did. It was common knowledge among the group that she had a blunt tongue, pointing out what others mentally thought but were too polite to say.
What do readers get when Ms. Flockton pens a story encompassing a SEAL hero that is determined to fight for a second chance with a feisty heroine that is determined to resist him? Well, readers get a very entertaining and riveting read with a good dose of suspense, a wonderful romance, and tough obstacles for this couple to overcome. The way this story started had me liking the hero and heroine immediately, as they have really good chemistry and I couldn't wait to discover whether the hero would be able to win Antonia over or whether he'll give up on her for good because she wants nothing to do with him. In her eyes, their marriage was a mistake. The thing is, was it a mistake?
With the main characters, I absolutely loved their back stories and the obstacles they face to be together. Such as whether the hero can keep the heroine safe and whether he can win her over, especially since she's so determined not to stay married to Brendan. Will she be able to make Brendan see things from her side? Moreover, both the main characters are fantastic and I loved how the heroine challenged the hero. She doesn't need him, but it doesn't mean she doesn't want him and with a killer targeting her she's going to need all the help and support she can get. Then again, Antonia is resilient, courageous and I liked that she gave the hero a chance, even though letting someone in isn't easy for her. Since she hasn't had a lot of experience in witnessing what a good relationship is. While the hero, he's confident, a good guy, determined to help no matter how many times the heroine tries to push him away and I liked the tight bond the hero has with his friends in the way they would do anything to help with Antonia's situation.
"You look like sh**."
That wasn't what she'd planned to say, but he chuckled. "There she is. There's my T."
His lips brushed hers and when he moved away, she moaned. "More."
"I would love to kiss you, but your lips are swollen and I don't want to hurt you anymore than you already are."
"Trust me when I say I'll take that pain."
Overall, Ms. Flockton has delivered another really good read for this series with this book where the chemistry between this couple was strong because of their banter and the heroine's determination to resist the hero; the romance was delightful and had me loving these two together; and the ending left me smiling because of the words these two share in fighting for their happy ever after. However, it was the epilogue that wrapped this story up perfectly and had me smiling long after this story was finished because of how the heroine teases the hero because of his nickname and finally learning how he earned such a nickname as Robot. I would recommend Guarding Antonia by Nicole Flockton, if you enjoy romantic suspense, the second chance romance trope or books by authors Susan Stoker, Shauna Allen, Elle Boon and Delilah Devlin.
Book Info:

Publication: January 8th, 2019 | Self-Published | Guardian Seals #6
What happens in Vegas stays in Vegas, right? That's what Antonia Rocca thought about her impetuous marriage to a Navy SEAL. When circumstances bring them back in the same orbit, the attraction is still there, even though she does everything to fight it. When it comes to light that their marriage isn't annulled like she'd believed, she's adamant that ending their union is for the best.
Brendan "Robot" Dean is never one to make a rash decision, so his Vegas marriage is very out of character. However, when he discovers it is still valid, he considers it an opportunity to explore his attraction to Antonia and find out if they really could have a marriage. If only Antonia agreed with him.
After Antonia witnesses a murder, Robot is there to provide support and keep her safe and she finds herself seeing him in a way that has her thinking of a future she never imagined. Before they get the chance to find out, Antonia is taken by the murderer. Robot and his team must race against time to save her from becoming his next victim.