In How to Seduce a Bad Boy (Point Beacon #1) by Traci Douglass , Melody Bryant is ready to lose her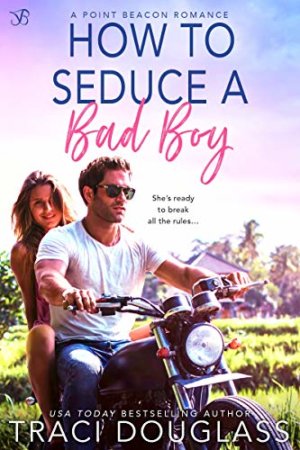 virginity, especially before she turns twenty-five. Except none of the guys in town are all that interested in her, so she decides she needs a makeover and tips on dating and there's no one better to ask to help her than Adam Foster. However, she finds seducing him isn't the easiest thing to do. But the more time they spend together, the more Melody begins to see that they could have a future together. Will she be able to convince Adam to take a chance on a relationship between them or will he break her heart because he's too loyal to her brother who just happens to be his best friend?
Between popping candies into her mouth, Mel explained the events of her newest dating fail. "I mean, it started out fine. Dinner at Stubby's Steakhouse, talking about our jobs, our goals, our dreams and the future. Then, of course, he went into all his hot librarian fantasies."
"Ewww," Lilly said, her shudder evident through the phone line. "That's nasty."
"Hey, it's not like I haven't heard it before." She devoured another handful of M & M's, then parroted Mike's worst come-on." You must have overdue books, honey, because you've got fine written all over you."
Lilly snorted. "Nice. How about, 'It's not the size of the collection, it's how you use it."
Mel giggled. "No, no. My all-time favorite was, 'Good thing I've got my library card, cause I'm totally checking you out."
I love the brother's best friend trope and Ms. Douglass has delivered a fun, fast-paced and entertaining read in this first book of her Point Beacon series where I enjoyed the quirkiness of the heroine and her determination to finally seduce the man she's always had a crush on. Will Adam be willing to help Melody with dating advice and the makeover she's looking to give herself? The way this story started had me feeling sorry for the heroine because men can be so immature and it's understandable why she wants a makeover. Will a makeover really help her land the man of her dreams?
As for the dialogue, it was fun and had me laughing at times, especially when the heroine was conversing with her best friend; a best friend that is very protective of Melody and doesn't want to see her get hurt because Adam isn't the type of man looking for a relationship. Will Melody be able to convince Adam to take a chance? Moreover, I really enjoyed the heroine and how forward she is. She wants Adam to be the one to help her and isn't afraid to say whatever is on her mind to get what she wants. Really, she's quite bold in the moment where she asks him about helping her, which was something I really liked about her. She knows what she wants and is willing to go for it because it's Adam; the man she's always wanted.
With the main characters, I could understand and couldn't help but sympathize with the struggle the hero faces to remain loyal to his best friend while getting close to Melody; someone he's always cared for, but never acted on his feelings. The Bryant family have always been kind and caring to him and better than his own family, so how could he even consider betraying their trust? Still, I liked that Adam was willing to help Melody out because he cares about her. While with Melody, she had me laughing at times with the way she challenges Adam and gets under his skin. Since he's the only man she's ever felt she can always be herself with.
Adam narrowed his gaze, his expression speculative. "Does that mean we're officially a couple now?"
Mel laughed, not caring for once the entire town knew her business. She clasped her hands behind Adam's neck and grinned. "Yes! Finally. And I expect to hold you to your promise, buddy. Your bad boy days are over." She leaned in closer to whisper, "Even if your skills are a definite turn-on."
Adam kissed her soundly, then winked. "A turn-on, huh?"
"You know it."
Overall, Ms. Douglass has delivered a really good read in this book where I enjoyed the strong chemistry between this couple which is present from the moment they come face-to-face for the first time; the romance was on the sweet side; and the ending had me loving how Adam fights for his relationship with Melody because she's the one for him and nothing will keep them apart. However, it was the epilogue that wrapped this story up nicely because of Adam's surprise for Melody. Certainly, it's the best surprise a woman can ask for, even if it's only a conversation. I would recommend How to Seduce a Bad Boy by Traci Douglass, if you enjoy sweet romances, the brother's best friend trope or books by authors Victoria James, Jennifer Hoopes, Carrie Nichols and Jennifer Shirk.
Book Info:

Publication: January 14th, 2019 | Entangled Bliss | Point Beacon #1
Melody Bryant has heard it all before. Sure, she's the epitome of the stereotype for a librarian. Loves order. Loves rules and deadlines. Loves books. But what she doesn't love is still being a virgin at twenty-four. Unfortunately, the only guy she's ever been interested in turned her down flat. And then left town. Eight. Years. Ago. Ugh.
Now her birthday is fast approaching and she just can't take it any longer. She's finding a guy before her birthday in five weeks or she's adopting two more cats and fully embracing becoming "the crazy cat lady."
But when her latest date ends in epic failure — everyone thinks of her as the "proper librarian," she realizes what she needs is to ruin her reputation. And she knows the perfect guy to help her: the baddest bad boy in town. This Army vet won't know what hit him…