In In a Holidaze by Christina Lauren, The aging but still beautiful cabin Maelyn Jones and her family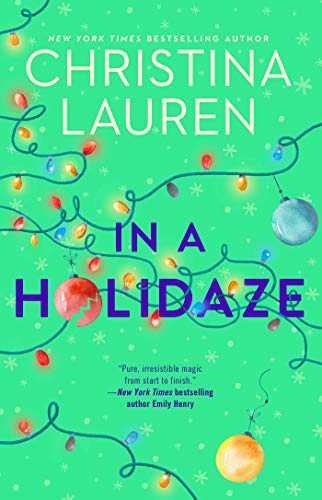 visit every year for Christmas in Park City, Utah, is her happy place. The snow, the festive decorations, and getting to catch up with her parents' friends who have become her extended family is something Maelyn looks forward to all year. But this season everything is different. She's become mired in the lack of direction her life is taking and is ready for…something. And after making a few blunders during their week in Utah, she wishes for a way to find what makes her happy on their drive back to the airport.
'I realized that yes, I *had* done this before–whether it was only in my head or was actually happening, I'm living this day again. I just don't know how or why.'
A freak car accident later and Maelyn wakes up on the same plane, in the same seat she sat in six days ago. Somehow she's on her way to Park City with her parents and brother again, like nothing ever happened. Freaking out inside, Maelyn confides in family friend Benny that she's lived this week before once they arrive at the cabin. His calming presence is a boost to her flagging spirit, wondering why she's been given a do-over. But she's not going to waste it. Maelyn has a plan to win the love of her life, save the cabin from being sold, and add their own touches to the traditions they've carried out her whole life. All while making herself and her family and friends happy. Not a small feat, but Maelyn knows she'll never get this chance again.
"You've never been for *me*, Maisie. I never knew you were an option."
"What do you mean?"
His breath comes out warm against my neck, voice shaking: "It never occurred to me that you might be mine."
My Christmas reading list got a huge boost with Christina Lauren's latest standalone: In a Holidaze. Filled with a comical, offbeat ensemble cast, a warm & toasty holiday feel, romance that was sweet perfection, and the laughs I crave from this duo, I just wanted to wrap myself up in this novel and live with these characters a bit longer.
'I believe now that the universe delivers random acts of kindness, and it's on us to decide what to do with them.'
A CLo holiday book!!! Yay! And like the book synopsis says, this truly was a blend of Love Actually and Groundhog Day in the most entertaining of ways. I love the characters CLo creates in any of their books, but there was something even a bit more whimsical and quirky with the group we had all together under one roof for Christmas at the cabin. They had such a terrific, rich history that it added more layers to an already interesting premise. Their lives were so twined up around each other that it both made things easier–everyone knew the traditions they followed and where their place was in it–and more difficult–feelings could easily be hurt and there was no wiggle room to do what they wanted to do.
It was Maelyn who was stuck in the Groundhog Day-like time loop. And my heart went out to her. The frustration she felt, the joy, sorrow, hope, and all of the love she had for these people who were her safe place…CLo did an incredible job describing it all in a way that was wholly relatable and immersive. Honestly, I think Maelyn is one of my favorite heroines they've created. In her mid to late twenties, she was, well, not happy with the direction her life was taking. Add to that her lack of a love life and the unrequited crush she had for one of the guys she grew up with, and Maelyn was stuck. It was when she figured out what she truly wanted in life and how it could not only help her but add something to everyone else's lives that things went in a positive direction. And what a breathtakingly, lovely series of events it was after that.
A novel that is guaranteed to give you all the feels and even add a touch of magic to your life, In a Holidaze turned tradition on its ear for a motley group of friends and family, showing them that love and friendship can overcome anything.
Book Info:

Publication: October 20th 2020 | Gallery Books |
Love Actually meets Groundhog Day in the quintessential holiday romance by the New York Times bestselling author of The Honey-Don't List.
It's the most wonderful time of the year…but not for Maelyn Jones. She's living with her parents, hates her going-nowhere job, and has just made a romantic error of epic proportions.
But perhaps worst of all, this is the last Christmas Mae will be at her favorite place in the world—the snowy Utah cabin where she and her family have spent every holiday since she was born, along with two other beloved families. Mentally melting down as she drives away from the cabin for the final time, Mae throws out what she thinks is a simple plea to the universe: Please. Show me what will make me happy.
The next thing she knows, tires screech and metal collides, everything goes black. But when Mae gasps awake…she's on an airplane bound for Utah, where she begins the same holiday all over again. With one hilarious disaster after another sending her back to the plane, Mae must figure out how to break free of the strange time loop—and finally get her true love under the mistletoe.
Jam-packed with yuletide cheer, an unforgettable cast of characters, and Christina Lauren's trademark "downright hilarious" (Helen Hoang, author of The Bride Test) hijinks, this swoon-worthy romantic read will make you believe in the power of wishes and the magic of the holidays.