The Amish Suitor by JoAnn Brown is a touching story about second chances at happiness. Eli has custody of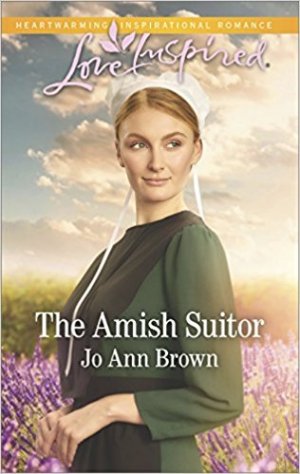 his orphaned nephew, who is profoundly hard of hearing. Eli feels responsible for the deaths of his nephew's parents, and moves to give him and his nephew a new start.
Miriam believes she doesn't deserve her own children or a husband due to her previous fiancé being cruel and verbally abusive. She "settles" for teaching in the new settlement of Harmony Creek Hollow instead, thinking her students will be her only children. Because she knows sign language and how to lip read, Miriam starts to teach Eli and his nephew, so they can communicate with each other more effectively. Amidst this, Miriam and Eli struggle to conceal their growing fondness of each other- because they both feel unworthy. Miriam tries to find comfort in her teaching, and in her group of friends, who jokingly call their group "the spinsters club".
Fellow readers of Amish novels will enjoy this story of close knit community, and the reminder of how the Amish cherish and respect people with disabilities. The Amish Suitor is a beautiful story.

Book Info:

Publication: May 22, 2018 | Love Inspired | Amish Spinster Club #1
With his orphaned nephew depending on him, Amish carpenter Eli Troyer moves to Harmony Creek Hollow to start over. And when schoolteacher Miriam Hartz offers to teach Eli, who is hard of hearing, how to read lips, he can't refuse. Spending time with Miriam forges a bond between them. Can two wounded hearts overcome their pasts to make a family together?