In Married for Christmas (Willow Park #1) by Noelle Adams, Jessica has come up with a solution to both her and her best friend Daniel's problems: they should get married. She has always longed to have a family of her own, wanted to create a loving home, but her dating record is simply pitiful. And Daniel, having been widowed a couple of years ago,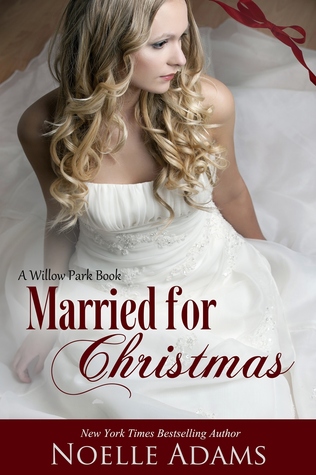 is having problems finding a church that will accept an unwed minister.
'She'd allowed herself to hope something deeper might develop between them. It never did. He'd just never thought about her romantically at all. No man had.'
Jessica knows she can make a marriage between them work as they are great friends already and she wouldn't worry about Daniel being unfaithful. She has strong feelings for him but he's never hinted at feeling the same way. Once he accepts her idea, she hopes he will begin to look at her in a different light. But Jessica isn't prepared for how difficult it is to handle a husband who is still grieving the death of his first wife, a mother whose health is declining, and living back in a small town where everyone knows her business.
'He didn't owe her anything except respect and faithfulness. She shouldn't expect for their practical marriage to turn into something romantic–just because she was wanting it more and more.'
Married for Christmas was a nice surprise. I wasn't quite sure what to expect after reading the book blurb, but I am happy to say I was easily caught up in Jessica and Daniel's relationship and I actually found the subject of Faith only enhanced this story.
To me, Noelle Adams struck the right balance by this being a straightforward contemporary romance and weaving the character's religion in bit by bit. The story is written from Jessica's pov and I was worried, given her lack of serious relationships in the past, that the romantic scenes would be awkward. But I thought they were honest, sweet, funny and passionate. Jessica's emotions were described so clearly that I could connect with what she was feeling in each scene.
There were times that it seemed like there was quite a bit of bickering between Daniel and Jessica, but they were a newly married couple who were in a unique situation so in the end it definitely seemed warranted. I also really loved her dog Bear and how she winds her way into Daniel's life, whether he wants her to or not. So cute!
If you're looking for a different twist on a Christmas story this Holiday Season, I would definitely recommend reading Married For Christmas.
Book Info:

Published December 1st 2013 by Createspace | Willow Park #1
After years of dreaming, Jessica is finally getting married, but the marriage isn't exactly what she thought.
Daniel is her best friend, and she's known him all her life, but he's never gotten over losing his wife two years ago. His dream is to become the pastor of the church in their hometown, but the small-town congregation keeps balking over calling an unmarried minister. Since Daniel needs a wife and Jessica wants a husband and family, she proposes an arrangement that benefits both of them.
They can get married. They can build a life together. They can celebrate Christmas as a couple. It's fine that he doesn't love her. And it's fine that she's not exactly suited to be a small-town pastor's wife. And it's fine that she's more attracted to her sexy, brooding husband every day.
Jessica can be practical about this marriage. She knows what she's getting into, after all…
This book includes fully-developed sex scenes between a husband and wife.