Hard Chrome by Vanessa North is the first book in her new American Heavy Metal series.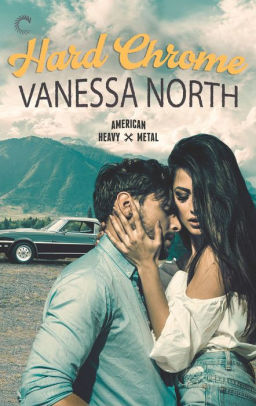 Tanner Ellis is home to help run the family classic-car shop. She left home ten years ago to run her own business in Chicago. When her father dies she decides to return home to pitch in. Plus her spa is now closed and in bankruptcy.
Tanner and mechanic Duke Wilson clash on their first meeting. But it seems that there's passion in the mix and hot sex. Lots of hot sex.
This story is well-written but I just couldn't get totally invested in Tanner and Duke and their story. I liked how the story ends though. Made me like Tanner and Duke more. I also liked the sense of family in the story.
The Ellis family sticks together through thick and thin and brings the Wilson siblings into their midst.
Book Info:

Publication: October 21st 2019 | Carina Press | American Heavy Metal #1
He's tough. But she's tougher.
Tanner Ellis left American Heavy Metal in her rearview mirror. She didn't see the beauty behind the grease stains and the polished chrome until it was too late. Now she's back, determined to save her father's legacy—and bring the South's premier classic-car shop into the new century. Nothing is going to stop her—especially not the sexy tech who refuses to follow her lead.
American Heavy Metal is the only home Duke Wilson's ever known, and no high-heeled, sharp-tongued princess is going to take it away. He tolerates Tanner's advice, and it's fun to push her buttons, but she doesn't belong in the shop—never has, never will. The sooner she realizes that, the sooner he can find his new normal.
When Tanner falters, revealing the pain beneath her bravado, Duke comforts her the only way he knows how. And when violence from his past threatens their future, she'll be there for him, offering him the one thing he's always wanted—a shot at a real family. He just has to convince himself to take it.
This book is approximately 49,000 words
One-click with confidence. This title is part of the Carina Press Romance Promise : all the romance you're looking for with an HEA/HFN. It's a promise!