Hard-Riding Cowboy by Stacey Kennedy is book three in the Kinky Spurs series and revolves around the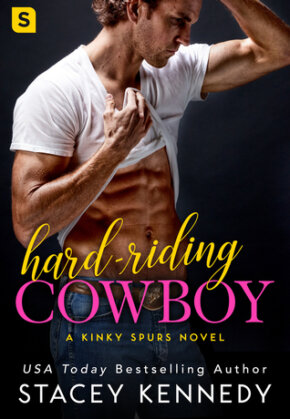 youngest Blackshaw brother, Nash, and the one woman he really shouldn't want.
Nash Blackshaw is now retired thanks to a spinal injury. He's home now and helping his family with the ranch, but he's still at loose ends. Having no choice but to end his career has left him bereft and he needs a new purpose. Maybe, a fiery bar owner will be just what he needs.
Megan Harrison is the owner of Kinky Spurs and isn't afraid to roll up her sleeves and pull a long night. Despite her father being wealthy, she handles her business on her own, regardless of the difficulties. A wedding gives Megan the chance to let her hair down, so to speak, and let go. Letting go, in the case, means sating her hunger for Nash, for one night. Nash doesn't do commitment, but that's only one of the reasons why she's tried staying away from the gorgeous cowboy.
Megan and Nash grew up as enemies because their fathers were business rivals, but the chemistry between them has been simmering for a while now. One night of passion that they couldn't ignore, ends up binding them together for their future days, but it's not all roses and rainbows. Trouble strikes at the Ranch leaving Megan and Nash on different sides. Will this be enough to tear Megan and Nash apart?
As much as I loved the first two books in this series, I must say that this one is my favorite of the three. Stacey Kennedy always deliver a sexy, well thought-out novel and Hard-Riding Cowboy is no different. I adored the chemistry between Megan and Nash and couldn't have asked for a better romance for these two. The sexual tension kept me hooked and so did the challenges each character faced. Definitely a series that deserves a re-read!
Book Info:

Publication: February 5th 2019 | Swerve | Kinky Spurs #3
Megan Harrison is the owner of Kinky Spurs. She's mortgaged up to her eyeballs and works long days and nights, but she's living life on her terms, not on her wealthy father's. She's done being in the cattle rancher's shadow. She's got it all figured out, except for the part that involves Nash Blackshaw. He's a sexy as hell cowboy whose smile can easily charm her out of her tight jeans. The only problem is—their fathers were business rivals, and Megan and Nash have been taught to hate each other since birth.
Nash Blackshaw, a retired professional bull rider, has responsibilities on top of responsibilities. With his PBR career over due to back injury, and his focus narrowed on heading up the Blackshaw Cattle Company's Guest Ranch, he shouldn't have time to think about all the ways he wants Megan. But it's all he thinks of around the sassy and sweet woman. She might be forbidden to him, but Nash wants to take her for a hard, kinky ride.
But small towns have a way of spreading gossip like wildfire, and not everyone is happy about their relationship. Especially when Megan drops a bombshell on Nash after one heated night between them. As much as Megan and Nash want to forget the old feud between their fathers and lose each other in explosive passion, they can't escape reality. They are meant to be enemies, and Nash's sizzling, dominant touch might not be enough to keep them together.