Hawaiian Holiday (Destination: Desire #2) by Crystal Jordan, is a sexy and poignant holiday romance. It is about two lonely people who desperately need a vacation from their lives, in order to avoid some of the memories and grief that their respective hometowns exude. They need closure as well as a new beginning. Coincidentally, they are staying at the same resort and accidentally meet while sharing a cab, in order to escape a midday rain shower.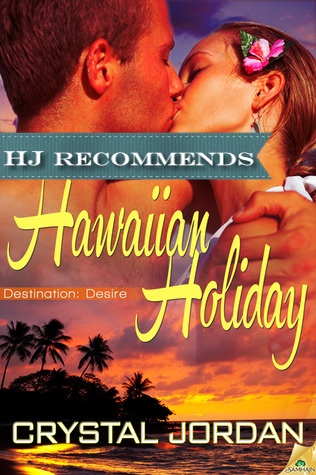 Julie Simms has experienced a lot of loss in her life. Most recently, she moved back to her hometown of Half Moon Bay, California, to take care of her sickly great aunt and manage her fiber art store. Julie's aunt basically raised her and taught her everything she knows about fiber art. Although her aunt's death was not a surprise, it still causes Julie some grief on most days. So her friends convince her to spend her first Christmas holiday without her aunt in Honolulu; chilling, creating new memories and possibly hooking up.
Stanford Professor Lukas Klein has just completed an intense week-long conference in Waikiki. Now he just wants to spend a week resting and relaxing before he has to return to his home in California. He is the victim of an insanely crazy and scary divorce, and after five years of being single, his ex-wife still has the ability to shake him up. He has no desire to give his heart to another woman ever again. A vacation fling is just about all he can handle.
Julie and Lukas hit it off immediately and end up spending all of their vacation time together. Every moment is charged with lustful heat. Incredible sex is an understatement, as they explore and learn about each other. They become friends and lovers. Honolulu is a dream come true, but what the future holds is pure uncertainty.
I loved this amazing, emotional love story. To begin with, a Hawaiian setting automatically puts me in the mood for romance. I have vacationed there twice and loved every minute of the islanders, ocean and sunshine. Ms. Jordan is able to incorporate the ambiance of the island along with the touristy excursions perfectly. Secondly, the main characters are so well-defined, my heart ached when Julie and Lukas were barely holding on. A tear or two became commonplace during some intense scenes.
In Ms. Jordan's talented hands, the characters evolved naturally and realistically, flaws and all. Julie's girlfriends reminded me of the ladies from Sex and the City, tremendously helpful and supportive with a recurrent "get laid" theme. Lastly, I am now a Crystal Jordan fan and plan on reading her other books immediately.
Book Info:

 HJ Recommends
Publication: December 3rd 2013 by Samhain Publishing, Ltd. | Destination: Desire #2
What happens on the island, lingers in the heart.
Destination: Desire, Book 2
Julie Simms moved back to Half Moon Bay to take over her ailing great aunt's fiber arts store, and stayed by her side until the end. Now it's Julie's first Christmas without the sassy old lady, and grief drives her to take some much-needed time off away from a town full of memories.
A week in Honolulu—hula dancers, coconut palms, and sunny beaches—is exactly what she needs, plus a bonus: meeting a gorgeous man who makes her forget everything except getting naked. With him. As often as possible.
Stanford Professor Lukas Klein, who's just finished up a conference and is ready for a break, hasn't been this intensely attracted to a woman since his divorce. He's been leery of getting too deeply involved in a relationship, yet Julie is a breath of fresh air he can't resist. And doesn't even want to try.
Half Moon Bay and Stanford aren't that far apart, but the magic of paradise could be too far removed from reality to let an attraction this mind-blowing last forever.