The Night Before Christmas by Kelly Hunter is a short prequel to HQ KISS' "West Family" series – even though it's not billed as such. The story can be read alone, because the characters appearing in the subsequent stories are merely a backdrop to the characters in this book.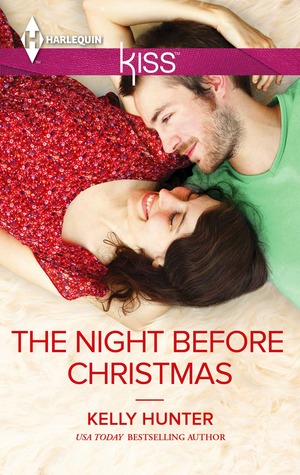 Jess left her hometown heartbroken, but set on a path to make her life better in big-city Sydney. She's not quite sure what brought her back now that she has her life together, but running into Trig Sinclair seemed like a fate almost worse than death. She can't turn down the invitation to spend time at the party he's invited her to because he's one of the reasons she made it out of here in the first place.
Trig already considers himself part of the West family, so inviting his old friend Jess to their Christmas party seems like a good idea. Lena and the other West family members may not know her well, but another of the guests certainly does – and he doesn't mind seeing Boyd get a little uncomfortable after what he put Jess through.
Boyd can't believe what he's seeing. Jess is at the West's place, and she looks amazing. He knows he broke her heart into a gazillion pieces, but he had his reasons. He knows he should leave well enough alone, but you know what they say about the best intentions…
Trig and Lena are the subject of "What the Bride Didn't know"  which is the first book in the West Family series. They show up here, and while they're not a huge part of Jess and Boyd's book, there's a little more of their backstory shown. This story is set while Trig and Lena are working together, but before Lena is hurt. While most of this novella is about Boyd and Jess, there are a couple of short chapters dealing with Trig and Lena.
I would've liked more of a chance to know Jess and Boyd – they were interesting, but I felt like the story just skimmed them here. I'm hoping that Boyd's brother Dell might make an appearance down the road, but I have no knowledge either way on that score. He wasn't a huge part of Boyd's story, but I once dated a Dell, so my interest was piqued. 🙂
Very quick read, held my attention, nice to see more of the West family. Solid KISS novella.
Book Info:

Expected publication: December 1, 2013
Hardworking and independent Jess Turner has come home from the bustle of Sydney to enjoy a quiet Christmas. But after running into an old school friend, she finds herself talked into attending a lavish Christmas Eve party—and running straight into the only man to ever break her heart.
Rebel with a heart Boyd Webber thrives on the adrenaline rush of riding motorbikes for a living, but giving into love has never been a risk worth taking. Until he sees Jess again. Their chemistry is still electric and Boyd can't give up the chance to rekindle what they once had. But if they're going to have a future together, they'll have to find a way to get past old hurts in time for Christmas Day…