He Said Never by Ruth Cardello: Introducing Riley (the long-lost sister of Dominic Corisi) and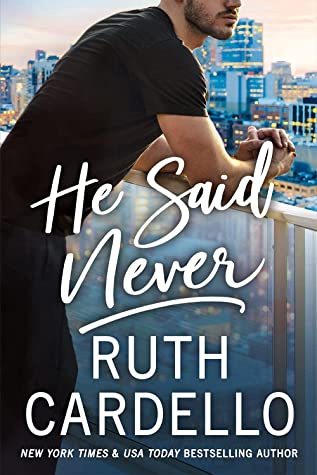 Gavin (a man hellbent on never falling in love). After being stood up for the third time, Riley goes to leave the coffee shop but blocks the line for the "insta-lust" worthy Gavin. Immediately rambling on about how all men who looked like him would stand her up, something within Gavin prompts him to ask if she would be okay with signing an NDA. After another chance encounter outside of her condo, he realizes that he can't get her off his mind. When his father gives him the ultimatum that he has to get engaged (but then consequently changes it to someone that shows a possible future), he decides to suggest a ruse to Riley. He just needs to convince his dad that he is trying, and who better than the woman who is consuming his thoughts and making him not want any of his other flings.
On Riley's side, she is trying to convince her mother to meet the Corisi family, but her mom is convinced that everyone will be like the man who abused her and abandoned her. What does she get out of the deal? She asks Gavin to come with her to talk to her mom about how she has a relationship with the Corisis. The ensuing events bring together many families and heals not just Riley.
Note to all men: do not mention signing an NDA when you first meet a woman. That's where Gavin lost Riley at first. The honesty that both characters displayed from the start was both encouraging and surprising. Gavin of course was supposed to be a macho man who didn't need a woman, but he didn't exactly have an example of what a love-filled relationship looked like. Instead, he focused on the reasons that he didn't need that in his life. His character development did seem a bit rushed. I loved the way that the relationship started, but all of a sudden, it was like the book had to be wrapped up quickly and everything changed.
Riley seemed to have more development because it didn't come across as too rushed. I was very grateful for that, because the series overall revolved around the Corisi family. Riley was the most open-minded out of the family, and Ruth Cardello really showed that with ease. She was the one who wanted to have relationships with everyone and cared about being honest with them. Showing her tribulations within herself about which family members she needed to be close to was enlightening, because there are relationships within every family that make you question who to choose.
Ruth Cardello has such an ease to her writing. It was a treat to see how the previous characters from her books made appearances in this installment. It's nice to know that you don't have to read the other books to understand the relationships, but "Maid for the Billionaire" would not hurt to understand Dominic more. Since he makes so many appearances and has such an impact to the story, it would be helpful to understand his motives. Overall, it was a great, quick read, but I felt that the second half was rushed compared to the rest of the story.

Book Info:

Publication: October 12, 2021 | Montlake | The Lost Corisis #2
From New York Times bestselling author Ruth Cardello comes another burning Corisi romance about family crises, dark secrets, and unforeseen love.
Riley doesn't want her mom to know that she's been seeing her newly discovered family, the Corisi clan. Riley's biological father made her mother's life hell, and even though he's dead, her fear of anyone who shares his last name lives on.
After attending two funerals, Gavin's father has decided Gavin needs a wife and children to be happy. Rather than inheriting his family's company, Gavin now must earn his way back into his father's good graces by producing a fiancée.
Everything with Riley would have gone easier if he had just lied to her about his meeting with her brother Dominic. The truth would have hurt her, and that was the last thing he wanted.
He never wanted a relationship, but when he is forced to choose between business or a future with her, he realizes he'll choose her every time.