Life Unscheduled by Kirsten Rockaway: For Nicole, working for her company Virtuality and her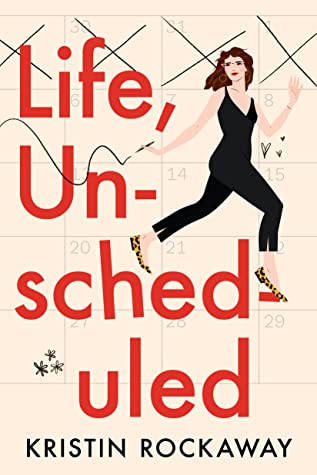 role as Junior AI designer, are literally her entire world. Accordingly, anyone in the tech industry would kill to work there, and with state of the art exercise desks, sleep pods and a dining hall to ensure staff are fed around the clock – who could blame them? Given she is up for her annual review, Nicole realises she needs to start advocating for herself and inquires with her boss Jon about how she can gain a promotion. Naturally, despite having given her heart and soul to Virtuality already, it seems like she has a few more hoops to jump through and a chunk more pound of flesh to serve up.
Simultaneously, Nicole is blindsided by a potential romance out of nowhere whilst catching up with her best friend Presia and also accept the role of Maid of Honour at the up and coming wedding. All things considered, Nicole realises things are going to get hectic, but with her trusty schedule and knowing she has every possible detail of her life set to a timeline, what could possibly go wrong?
This meet-cute corporate sort-of romance explores severe workaholism and the firm belief that there is nothing more important then giving your all to the company or sacrificing any chance at happiness for the prize of promotion. Themes of life is too short and finding your own worth were strong throughout, and whilst Nicole was largely emotionally bereft given she was very much on the flight side of fight or flight, she was quite likeable in her small-world way.
In a seemingly cut throat industry, one needs to question whether the company and what it represents is really all that important if romance, love and friendships are not prioritised. And sadly, that sentiment exactly is what nearly brings Nicole to breaking point with the cold reality that everything she actually loves likely can't be saved as her emotional life matrix has listed those things as unimportant. For many, this is a cute reminder to keep re-evaluating if what you are doing is really making you happy and whether or not you have the people you love in your life at the top of your priority list.
Overall, Life Unscheduled presented an interesting take on the tech industry and what it really means to find your truth and follow your heart.
Book Info:

Publication: 1st September 2021 | Montlake |
Nicole Palmieri is married to her job. As a user experience designer at Virtuality, an artificial intelligence company in Los Angeles, Nicole is at her desk from sunrise to sunset. She doesn't have time for a social life (or a love life), but that's perfectly fine with her. Until her best friend, Parisa Shahin, announces her engagement and asks Nicole to be her maid of honor.
That's when Nicole decides to meticulously schedule out the next six months of her life—from her project due dates to her dress-fitting appointments to how many hours she plans to sleep each night. If she can stick to her schedule, she'll balance everything fine. Of course, that's a really big if. And after she crosses paths with emerging restaurateur Brandon Phelps, Nicole is feeling feelings she hasn't felt in…well, ever. But scheduling time to fall in love might push even the most meticulous plans into pure chaos.