In Heart's Desire (Lords of Chance #2) by Wendy LaCapra, Lady Clarissa is done with men, especially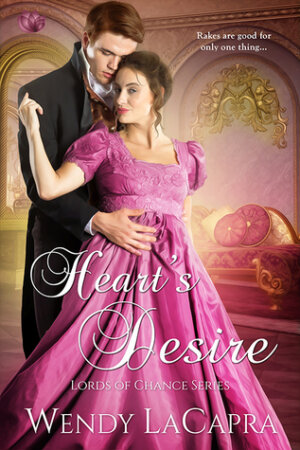 after ending her ten-year betrothal. However, it seems her friend's brother is determined to save her when he hears some disturbing news that could lead to a scandal for her. Determined to help her, they enter into a fake relationship. But when their feelings go from fake to real, will Clarissa take a chance on Markham or will she end up with a broken heart?
"Well," she said, "it's not as if you've ever sought my company."
"But I have," he replied. "You and Julie and I have been together on numerous –"
"I mean before." My. The Pandora's box she'd opened was thrusting forth all sorts of unexpected responses.
"Before?" He considered, frowning. "You mean before you met my sisters?" She nodded. "Well, I…" He thrust a hand through unruly hair. "You were rumored to be engaged, Clarissa."
The historical romances Ms. LaCapra writes are always a pleasure to read and I loved this second book of her Lords of Chance series, as the hero is such a charming character and the heroine provides such a good challenge for him with her determination to be independent after being rejected or disappointed in the men in her life. Will Markham be another man to disappoint her or will he prove different?
As for the dialogue, it was well-written, flowed nicely and made me love the growing relationship between Markham and Clarissa, as they've both been through a lot in their lives which has led them down the paths they've taken in life. However, Markham is ready for a change. Is helping Clarissa his first step or does he have an ulterior motive? Will Clarissa allow Markham into her life after everything she's been through? While the heroine, she's resilient, courageous and I liked that she gave the hero a chance, even though she's been hurt before and believes she could get hurt again. Then again, Markham is a good man that will do anything for those he loves and cares for. So, maybe putting her trust in him won't be so bad.
"What happened to the devil-may-care Lord Markham?" Her tone soured. "Elegant and controlled…always a step apart, always with an amused eye-sparkle and a mocking half smile." Now that hurt. Actually hurt – as if she'd thrust a long thin pin downward through his chest. "A great many people depend on you, don't they, Markham? And you do care." She laid a hand on his heart. "You care a great deal."
Overall, Ms. LaCapra has delivered a delightful and emotionally-animating read in this book where the chemistry between this couple builds wonderfully and is present right from the moment they come face-to-face for the first time despite the heroine's initial dislike of him; the romance was well worth the wait; and the ending left me smiling because Clarissa finds she should always bet on Hearts (something that has to do with the hero's nickname.) I would recommend Heart's Desire by Wendy LaCapra, if you enjoy the opposites attract trope or books by authors Vanessa Riley, Tara Kingston, Callie Hutton and Tina Gabrielle.
Book Info:

Publication: May 13th, 2019 | Entangled Publishing | Lords of Chance #2
Lady Clarissa has decided to live life on her terms. After the end of a ten-year betrothal, she wants nothing to do with marriage or the men of the ton. Least of all her friend's brother, the very charming Lord Markham, or Hearts, as many ladies call the oh-so-handsome earl.
Markham pursues relationships with no ties that bind. Acting the rake leaves everyone satisfied…until he overhears a wager that could lead to Clarissa's ruin. He can't help but step in and claim she's his intended bride.
Clarissa is appalled. She did not need to be saved. Reluctantly, she agrees to the fake courtship, if only to experience what the rakish Markham can offer. But when lust becomes love, Clarissa must make up her own terms and bet it all on Hearts.