In Heartthrob (American Royalty #1) by Robin Bielman , Chloe Conrad has been assigned the job of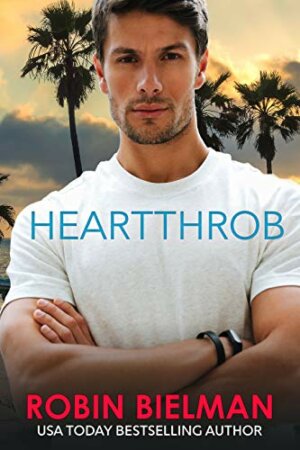 looking after baseball player Finn Auprince's social media accounts, which means the pair working together. However, it's going to be hard for her to keep her hands off him but that's what she must do. Yet, Finn doesn't make things easy for Chloe. Will Chloe give in to the handsome baseball player or will their shot at happy ever after never happen because Chloe isn't willing to take another chance on a relationship after the disaster of her last one?
"You did not just call me that."
"Blondie? I did. I could call you freckles instead."
He noticed my freckles. I have exactly five of them across my nose. "Are you being cute with me right now?"
"You think I'm cute?" A sly smile takes hold of his face, the kind of smile you can't not be enamored with. The kind that constructs butterflies in your stomach whether you want them or not.
"Going by the North American informal definition of cunning in a self-seeking or superficial way, yes."
What a fun, enchanting, wonderful read Ms. Bielman has penned in this first book of her American Royalty series, which is humorous at times, emotional at others and had me hooked from the very beginning. Really, the way this story started had me liking Finn immediately, as he's feeling down on himself because of what's happened recently. Will he get his life back on track and continue to be able to achieve the goals he's set for himself in his career? However, it was from the moment the hero and heroine come face-to-face for the first time where this story really takes off, as they have some history because of the hero's career and their introduction doesn't get them off to the best start. Really, just who is the one in the wrong?
With the dialogue, it was extremely engaging because of the main characters back stories, their growing relationship and the obstacles these two face to be together. Such as the heroine's uncertainty whether she can trust the hero enough to give him a chance after her last relationship; whether the heroine should become involved with someone she's working alongside; and whether the hero should be getting involved with someone while he's so focused on getting back to achieving the goals he's set for his career. Will he lead his team to a major victory? Will the hero be able to get back to peak condition again after the injury he suffered?
"I will never break any part of you. You put the kind of meaning in my life that only comes around once in a lifetime. Those other guys? They were just so you'd know what true love feels like – with me."
I nod. And blink. And swallow the emotion lodged deep in the back of my throat, in my bones, in the special place in my heart that's been waiting for Finn. He's right. All my experiences led me to here. "So, we're doing this," I finally say, quietly but surely.
"You bet your sweet a** we are. No takebacks."
As for the main characters, I absolutely loved the hero because he's charming, confident, persistent in his pursuit of winning the heroine over and I liked that he gave the heroine a chance to help him master his social media by doing whatever the heroine asked of him. While the heroine, she's quirky and I loved how she shows the hero how smart she is. Really, it's a very interesting way to show off, especially when they come face-to-face for the first time. I also liked her take charge attitude when it came to her job and that she didn't allow the hero to deter her from what she wanted to put on his social media accounts. Certainly, the world needs to know a little bit more about Finn. Yet, what I liked most of all about the heroine was that she took a chance on the hero. Really, she's good for him and vice versa.
Overall, Ms. Bielman has delivered a delightful read in this book where the chemistry between this couple was strong and convincing; the romance was hot and nicely-detailed; and the final chapter wrapped this story up wonderfully and had me crying happy tears because of the hero's words to Chloe and the surprise he has for her that shows her she's the only one for him. I would recommend Heartthrob by Robin Bielman, if you enjoy workplace romances, the enemy to lovers trope or books by authors Samanthe Beck, Cindi Madsen, Rebecca Brooks and Gina Maxwell.
Book Info:

Publication: May 7th, 2019 | Tule Publishing | American Royalty #1
He likes a challenge…
Here's the deal: I'm the best center fielder in the major leagues. I'm also the guy who cost his team the championship game and acted very unsportsmanlike. So, when the team hires a social media manager to repair the damage to my reputation, I don't argue. But then I meet Chloe Conrad, and I suddenly understand what people mean when they say they have an instant connection to someone. Which means I'm in serious trouble. Chloe's a smart, sexy distraction I can't afford, but one date can't hurt, right? Only she turns me down. And just like that, it's game on.
She's sworn off love…
Finn Auprince is the hottest player in the major leagues. Look up "It Factor" in the dictionary and there's his handsome face. He's also my biggest client and I don't care how easy it is to talk to him or how fun it is to manage his social media accounts, I will not give in to his charms. Then one drunken night, I tell him about my curse: all my previous boyfriends have found their soul mates while dating me. One more heartbreak, and I'll never recover. But Finn doesn't believe in curses—he believes in me. Professionally and personally. He sets out to prove the universe isn't against me, and that his one true love isn't waiting around the next corner.
The problem is…can we play the game of love and both come out on top?