In Heir to a Dark Inheritance by Maisey Yates Alik Vasin is "broken beyond repair". There is no room in his life for emotion, there never has been. As a youngster on the streets of Russia, he did what he had to do to survive.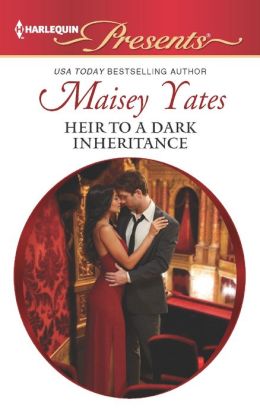 When Alik finds out he has a 1 year old daughter he knew nothing about, who is about to be adopted, he stops what he is doing and goes to claim his daughter, Leena. Widowed Jada has had Leena with her from the moment she was born. As far as she is concerned, the adoption process is just a legal formality. Jada is devastated at the thought of losing Leena, even if it is to her father. For Alik, there is nothing else he can do except the right thing by claiming his daughter. For Jada it is yet another heartbreaking loss she is going to have to deal with when the court rules that there is no reason that Alik should not have custody of his daughter.
Alik is a very rich, very powerful businessman who has risen up from nothing. He hails from many places, but it is Attar he considers more home than anywhere else. It is where Jada must go when, to remain Leena's mother, she agrees to marry Alik…a marriage of convenience only of course, so that Jada can truly be Leena's mother. There can be no place for a sexual relationship in this marriage! Alik has trained himself over the years to feel no emotion, for him sex is only a release for his body. For Jada though, to have sex there has to be love and a relationship. Despite this, there is something about Alik that pulls at Jada…
"He was scarred, rough. Dangerous. And in that danger there was a magnetism that defied logic. That was unlike anything she'd ever experienced. Ever."
The heat between Alik and Jada is burning hotter each day, much to Jada's dismay. Part of her feels guilty for wanting him, another part pushes him away. "He was tugging away a mask she hadn't realized she'd had. A mask kept so easily in place by her desire to please, first her parents and then her husband." Even as the feelings grow stronger for both Alik and Jada, she denies them and insists that there can be nothing but Leena between them. For the first time in his life, Alik finds himself feeling…and he is not afraid to admit to his feelings.
With Jada pushing Alik away and Alik feeling more and more for Jada is there a common ground they can reach? Or will Jada push Alik away one too many times? Both will need to really open up their hearts and minds if there is to be a future between them as a real family.
Maisey gives us some interesting characters in Heir to a Dark Inheritance! Despite Alik's matter of fact, emotionless approach to his life, I really liked him. I liked that he told things like they were, he didn't play games. There is no room in his life for that. Even when he starts to acknowledge his growing feelings, he deals with them in the best way he knows how. He is also surprisingly insightful for someone who thinks he has no feelings. My heartstrings were pulled too, thinking of him as a young boy.
I could not like Jada! She did kind of grow on me, but wasn't a character I enjoyed spending time with! All of her self worth is tied to others, she doesn't seem to be able to value herself as she is. She could only find happiness from feeling valued and needed by others and this drove me insane! She is stuck in the past, fears moving on. While I can understand her feelings, she took them to the extreme…not wanting to give anything else a chance that might be different than her way of being up to now.
Heir to a Dark Inheritance is the second book of this series, but can be read as a stand alone. I do wonder about cultural challenges Jada must have faced, and how she could just completely uproot her life to run off to Attar to marry Alik. There is no mention of friends, and little mention of what happened to her parents or if there is other family.
This is a fairly fast paced romance. Heir to a Dark Inheritance flowed smoothly off the pages…I did enjoy reading it even if I did have issues with Jada! I'd recommend it to anyone looking for a romance that's a little outside of reality with lots sizzle!
Book Info
Publication Date: April 23, 2013 | Series: Harlequin Presents (Book 3141)
They say that Alik Vasin's heart is carved from the hardest diamond and the coldest ice…Alik is powerful, ruthless and incapable of love. But when he discovers he has a daughter, nothing will stop him from claiming the child as his own.Jada Patel will do whatever it takes to keep little Leena in her life, even if it means a convenient marriage. Though there can never be a future between them, resisting the powerful Alik is impossible.
Jada thought she'd known desire, but catapulted into Alik's glittering world, she discovers an all-consuming, intoxicating passion that could melt even the coldest of hearts.