Erin Nicholas authored Hitched, the fourth and final book in The Promise Harbor Wedding series. I was lucky enough to read the first three books of the quadrilogy; Jilted, Bolted, and Busted.  Each book is told from a different character's point of view and the final book is written from the perspective of Allison (Allie) Ralston, the bride who was whisked away by her ex-boyfriend, Gavin Montgomery, from her own wedding . The prologue of Hitched recounts Allie's "almost wedding day" as she experienced it, therefore providing the reader with all the background information needed, to understand the book moving forward.  Each book may be read as a stand alone or as part of the series.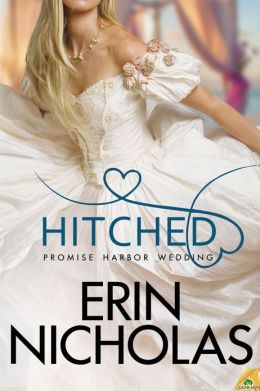 Allie is a good girl.  She always did what was asked of her and more.  When her mother passed away, she assumed it was her job to continue her mother's life.  She took on the role of running the household, which included taking care of her father and two adult brothers.  Little did she know how independent her family could actually be if given the chance.
Allie and Josh grew up together and their families were very close.  Josh helped Allie cope with her mother's death. Naturally, when Allie and Josh began dating, it was almost expected that they would marry.  Their marriage would make both families very happy.  However, they were not in love with each other, just very good friends that always did what everyone else wanted. Lucky for Allie, Gavin stepped in and made her see that she was special in her own right.
Allie and Gavin have known each other since high school and dated after they finished college. Their on again, off  again relationship was unique in that it was about sex, laughs and fun.  When they were together it was all about the present and the actual moment.  Not once did they share what was going on in their individual lives.  They escaped from reality when they were together, while loving each other intensely and madly.  When the relationship finally ended, Gavin moved 4000 miles away to Alaska and bought an established veterinary practice.  Allie remained in the small town of Promise Harbor, taught elementary school and took care of her family.  They each felt incomplete without each other.
Gavin stopped the wedding.  He literally swept Allie off her feet and took her to his home in Alaska.  They learned about each other, discussed their feelings and how to convert their love into a true relationship. And had fabulous sex. They needed to become a couple in the true sense of the word, with their troubles, emotions and families involved within their lives.
They returned to Promise Harbor together and as a team, helped each other discover themselves.  Gavin faced his demons and began the process of rebuilding a relationship with his father. Allie was able to see that her family could take care of themselves.  Love does conquer all.
I enjoyed this book and the entire series.
Book Info
Publisher: Samhain Publishing, Ltd. (April 30, 2013)
And she thought the bridesmaids dresses were her biggest problem…
Promise Harbor Wedding, Book 4
Allison Ralston would rather be anywhere other than this wedding. Even if the wedding is hers. Especially since the wedding is hers.
But Allie's determined to restore her family's happiness, and if tying the knot with longtime family friend Josh Brewster is the way to do it, then she'll walk down that aisle, toss that bouquet and drink that champagne.
Oh, she'll definitely drink the champagne.
There's only one thing that could get Gavin Montgomery back to Promise Harbor. And she's about to say I do to another man. Now he's back to claim what's his—even if he has to do it in the middle of her wedding.
Allie is shocked—and okay, a little turned on—when Gavin literally sweeps her off her feet. Safe in his arms, she succumbs to fatigue, stress, and yes, the champagne, only to wake up in his bed. In Alaska.
Now that he's put four thousand miles between Allie and all her responsibilities, Gavin's determined to show her that they can make a life together. If he has his way, the next wedding Allie will be planning will be theirs.
Warning: Contains a guy so in love he's willing to break up the wedding of the season, a bride who just needs to get to, well, anywhere else, and enough hot sex to take them from New England to Alaska and back again.