In New York Minute by Melinda Dozier, Veronica Mars has decided to attend a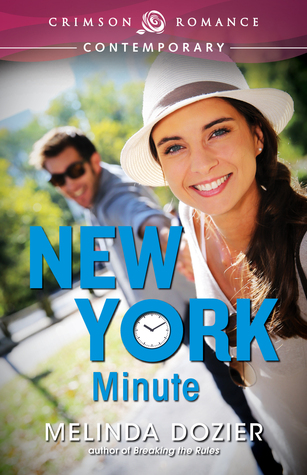 co-worker's wedding. With them being in New York she knows that the food must be worth it considering the price of the catering and place where the wedding is being held. But she knows that as always, the shy accountant in her will remain a wallflower. But she will at least try to live a little before she follows her mother's dictates.
As Veronica is about to leave the wedding reception, she realizes that this may be her only chance to live and have a fling. So she decides to try and flirt a little, just maybe she will be able to pick up a man there. And when a handsome man flashes his bedroom eyes at her, she knows that she will try to be a sexy siren if only for one night.
Many people know Diego as a rock star, which is why most women seek him for his fame. But while at his friend's wedding he decides to try and live a little, and just maybe find his muse. And the sexy woman making eyes at him is the first to have stirred him in a while and decides to approach her. To his surprise she has no idea who he is and she won't tell him who she is either other than Vero. Perfect for a fling and a wild night.
Little does Diego know that Vero awakens the muse in him, and after one night with her he has a new song for his band. The only bad thing is that she walked away from him and he doesn't know how to contact her. Yet fate has other plans, when Veronica's friend takes her on a speed dating event and she once again meets up with Diego, who was brought there by his brother and immediately gives her his card with his address and tells her to meet him there after the event ends if she won't leave with him immediately.
At first Diego doesn't know if she will show up, but with his brother still at the event he hopes that he will somehow help him get Vero to his place. Only Veronica believes that the only way she can keep Diego's interest is by pretending to be someone else with a more interesting life than an accountant. But she is not the only one keeping secrets.
The attraction and chemistry between Diego and Veronica never diminished during their time apart. As they get to know once another, they begin to fall in love. But all the secrets that they have been keeping may just tear them apart unless they can talk sincerely and tell each other the truth of their lives and why they have been hiding it,
If you want a sweet and fun read with lots of depth, don't miss New York Minute by Melinda Dozier.
Book Info:

Published March 9th 2015 by Crimson Romance
Shy accountant Veronica Bass is determined to live it up a little before settling down with a perfectly respectable man to live a perfectly respectable life, just the way her mother wants.
So when rock star Diego Diaz flashes his bedroom eyes at her during a wedding reception, Veronica swallows her shyness and leads him to the nearest hotel room. Now this total sex god keeps popping up in her life, and she finds herself telling some not-so-little white lies to keep him interested.
Diego's world evolves around music, women throwing themselves at him, and having fun. His lifestyle hasn't allowed him to find the right girl to settle down with until now, but his own secret stands in the way of forming a lasting relationship with Veronica.
Is their love destined to last for only a New York minute?