In Her Holiday Rancher by Cathy McDavid, after his dad died, Gabe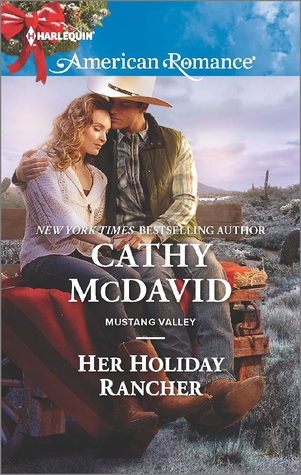 Dempsey thought he'd inherit the family ranch, but it seems his dad has left it to all three of his sons. With his estranged brothers pressuring him to sell, and having a trustee assigned to manage his father's estate, Gabe doesn't know how he'll be able to make the Dempsey dream, of turning the ranch into a successful cattle operation happen, but he's determined to try.
It was to be expected. Even under normal circumstances, no one in the Dempsey or Salazar families would be pleased to welcome her, the daughter of Theo McGraw. To learn she was the employee at Southern Arizona Bank in charge of overseeing August Dempsey's estate, well, it must be a shock.
Reese McGraw knows Gabe isn't going to be happy when he discovers that she's been assigned as the trustee to his father's estate. Their fathers were rivals, so clearly there's a conflict of interest. But, no matter what Gabe or anyone else thinks, she's a consummate professional. If anything, she's more than willing to help him save his family's ranch, if he'll give her a chance.
What an absolutely charming story Ms. McDavid has delivered that was both sweet and fast-paced, of a hero and heroine that have quite a history, and need to work together to combat the obstacles they face, if they're to have any chance at a future. The opening chapter definitely sets the pace of the story by delving into the history that exists between them. Of how Reese put her trust in Gabe, and how he's kept her secret to himself over the years.
The dialogue was riveting, and gets quite intense due to Reese having been appointed the trustee of his father's estate and there clearly being a conflict of interest, the decisions Gabe makes when it comes to the ranch and his animosity towards his brothers. Reese really helps him, offering her support as the hero strives to dig the ranch out of debt. Yet, their growing relationship isn't without issues, as Reese finds it hard to mix business with pleasure. But despite Reese's need to keep things professional, the moments where the couple are together, whether they're arguing or bantering playfully made it hard for her to do so. This moment after a rather intense kiss really tests Reese, because she can't help but remember back to the last time she acted rashly with a man and things didn't work out. So she's determined not to make the same mistake. No matter how much she wants Gabe.
Reese, hold up. We should go together. If not, my mom will think I did or said something to upset you." He paused, balancing a platter in the crook of his arm. The same arm he'd used to hold her tight moments ago. "Did I upset you?"
"No."
"Really? Because you look kind of flustered."
"I do?" She automatically smoothed her hair.
"Don't worry." He grinned. "You're gorgeous."
He'd been right the first time. She was flustered and more than a little mad at herself. She'd been wrong to encourage him. "This is all my fault."
"I'm the one who kissed you."
"And I let you."
His grin widened. "Yeah, you did."
She rolled her eyes. He was such a guy. "Don't let it go to your head. I was simply curious."
"That wasn't the only reason you kissed me."
Of all the nerve! His confidence irritated her. "Whatever the reason, it isn't going any further and won't happen again."
"Because of your job."
"Yes."
I really liked both main characters. Reese is smart and a total professional when it comes to her job. She's also very determined to help her dad with his illness, even though it's taking a toll on her, because he's terrified of others knowing about his condition. While Gabe, he's determined to make the ranch a success, even if it means taking risks that could put the ranch deeper in trouble. He has a really close relationship with his mother, and her meddling in his affairs such as pushing him together with Reese, or his brothers really opens his eyes up to some hard truths. Bringing him to realize that maybe his dad was right to make the decisions that he did in his will. Even though he's resentful towards his dad's decisions in the beginning, the more he discusses things with his mom, the more he realizes that his dad made the right choices.
Overall, Her Holiday Rancher was a really good book, which ended nicely with the surprise Gabe received from one of his brothers, Reese's dad offering him a miracle to help save the ranch, and Gabe expressing to Reese the moment he realized when he fell in love with her. I would recommend this book, if you enjoy the enemies to lovers trope.
Book Info:

Publication: November 3rd, 2015 | Harlequin American |
Four generations of Dempseys have struggled to turn the Dos Estrellas ranch into a successful cattle operation. Gabe Dempsey vows to keep the dream alive, even if he has to share ownership with two half-brothers, who are virtual strangers. They are also pressuring him to sell;which will happen over his dead body. Luckily, Reese McGraw is the trustee of his father's estate, and she's on Gabe's side. For now.
Reese is happy to support Gabe in his fight to keep the ranch; but is her support a conflict of interest? His brothers seem to think so. Gabe and Reese's growing feelings for each other are a problem, too. But maybe it's one that will be solved by the magic of Christmas!