Her Hottest Summer Yet by Ally Blake: Avery was going to a bit of trouble to avoid her mother for a few months – by telling her she was 'on sabbatical' – then actually taking one. She decided to go back to the place her family spent their last carefree summer before the shit hit the fan and she became 'Switzerland', the neutral ground between her mother and father. It didn't hurt that she'd be seeing her childhood friend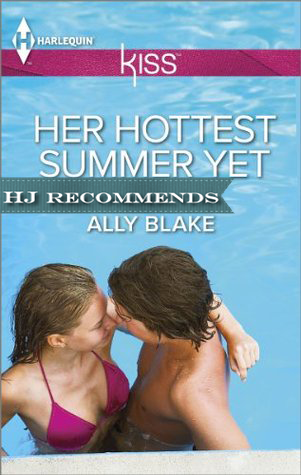 Claudia who now co-owns the resort with her first crush, Luke. But as it turns out, first crushes aren't always the deepest…
Jonah knows he should let the pros save the woman who seems to be flailing out in the ocean, but there's nobody around but him. Stupid chivalry. It gets worse when she turns out to be a gorgeous American TOURIST. There's almost nothing worse. No, he's wrong… there's nothing worse, American or otherwise. Crescent Cove is his home and he won't be leaving it for anyone or anything again. Thank goodness she's here to "reconnect" with his mate, Luke.
Meanwhile, Luke and Avery have absolutely no spark. Nothing, nada, zilch. Jonah can see that right off the bat. So can Avery and Luke – hell, even Claude notices, and she's got a zillion other things to worry about. So when the four of them go out, Jonah and Avery are drawn to each other without wanting to be and things can never go back.
At least there's a time limit to their fling. Avery's going back to New York at the end of the summer, without Jonah – and that suits him just fine. He doesn't get attached to anything anymore – even the dog that never strays from his side. It's cool with Avery too. She knows her life is in New York, and Jonah rubs her the wrong way outside of bed anyway. It's best they have an expiration date, right? Right?
I think I fell in love with Jonah while reading this book. Seriously. You've heard of book boyfriends? I want him to be my book husband, book soulmate, whatever. Hell, I'll take book cabana boy because… DAMN.
Avery's no slouch either. She's someone I'd love to be besties with because she (mostly) gives it to you straight. She's a little clumsy sometimes, and she has some issues, but then doesn't everyone? If you're friends with Avery, there's *nothing* she won't do to help you when you need it. and if Jonah likes you, you'll get the same treatment from him. Just don't expect him to take any credit – because FEELINGS.
Once Avery and Jonah figured out they wanted to be together despite the obstacles, the sex scenes were pretty hot – but that's not why I liked this book. I mean, if you guys read my reviews you know I prefer my books with a bit of steam, but the story's the thing – and this one HAS IT.
Vivid descriptions, amazing side characters, sparks like you wouldn't believe (and not just between the leads) – 10/10 would keep in my kindle app.
Honestly, it's been a while since I liked a book this much. I *literally* am waiting impatiently to read Claudia's book.
Book Info:

Published July 1st 2014 by Harlequin KISS
Everything she needs for a hot summer!
Ten years ago, New York society princess Avery Shaw had the perfect holiday…right before her parents divorced. Now, desperate to recapture that lazy, carefree feeling, she's returning to tropical Australia's Crescent Cove to see her friend Claudia.
Only everything is different! Claudia's busy working, there are creepy-crawlies everywhere…and deliciously ripped surfer Jonah North is always there at the wrong time. He's every kind of wrong – the lust is uncontrollable, and in her experience that always ends badly. But she's leaving in two weeks – can she really turn down a tough, sexy Aussie man?