In Shelter Me (Second Chance Ranch #1) by Catherine mann, Trooper is on his way home to his human family, and he has a mission. Help this family heal after the tragic loss of his human, The Commander (Allen) in Afghanistan. Rescued in Afghanistan and on his way to a different life, it is staff sergeant Mike's responsibility to deliver him to Allen's family, including his daughter Sierra…the woman Mike can't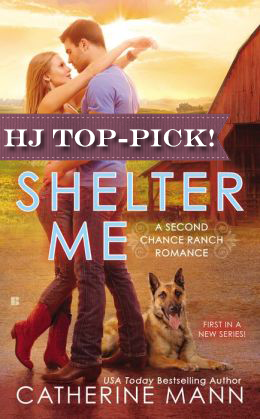 forget.
Having once been together, Sierra is not ready for the feelings still Mike brings out in her. She's not so sure she's ready for another reminder that her Dad is forever gone either, reminders both Mike and Trooper bring. Sierra has so much going on in her life right now from her father's death and grad school to helping out on her mother's animal rescue ranch, that she doesn't know if she can fit anything else in. Sometimes she feels like she just can't keep everything up. When Mike sees Allen's family is struggling so much, he ends up staying on the ranch for his leave to help out where he can. Sierra and Mike can't deny themselves for long, but Sierra has no desire to be another military family again. She'll take what she can now …but will it be enough? Can she let go again?
The whole family is struggling to move on without a man who was gone more often than he was at home. There is so much going on in Shelter Me and it all interlinks and leads back to their huge loss. Shelter Me is so much more than Mike and Sierra's story. It is a story about a family who is coping, but not moving on. This is just as much the story of Lacey – Allen's wife, their son Nathan, and Allen's ailing father The General, who they struggle to keep well and safe. It is also Trooper's story, and through Trooper's eyes, Allen's story.
Catherine manages to effortlessly tell Shelter Me from numerous POV's that transition very easily from person to person. I loved how she did this, making me feel close to everyone. There is great character development and a strong sense of realism in Shelter Me. Catherine writes with great insight. At times heart wrenching, at times humorous, Shelter Me is believable with characters that will stick with you. With her talented writing, Catherine drew me in fast and deep into the lives of Allen's family. Dealing with real life issues and a family left behind from the loss of war, Catherine takes it pretty deep at times, with unexpected plot twists, all of which are very true to life.
Trooper is the real catch and the way we see the world from his POV pulled me and my heart strings in even tighter, if that was possible.
Shelter Me is very well written, with smooth progression from scene to scene that is easy to follow. Catherine took me on a very emotional journey from both ends of the spectrum in the best possible way in Shelter Me.
I'd highly recommend Shelter Me to all romance readers.
Book Info:

Publication: August 5th 2014 by Berkley |  (Second Chance Ranch #1)
Nestled in the sunny fields of Tennessee lies the McDaniel family's Second Chance Ranch Animal Rescue. Two new arrivals are on their way, but only one is the four-legged kind.
Staff Sergeant Mike Kowalski wants only one thing after he gets home from Iraq: to sleep in a king-sized bed with clean sheets. But first, he has to hand off his fallen commander's dog, Trooper, to his family without handing off his heart to Sierra…
Sierra McDaniel needs a break. Her family life is crazy, and when she's not mucking out kennels, she's slogging through grad school. Sierra certainly doesn't want another dog, especially one that reminds her of her father. And she definitely doesn't want to see Mike with that charming smile of his…
But Trooper has a mission of his own. Before too long Mike is moving to the ranch to lend a hand—and hoping for his own second chance with Sierra.