In Her Knight Under the Mistletoe by Annie O'Neil, Matthew Chase and Amanda Wakehurst never expected to see each other again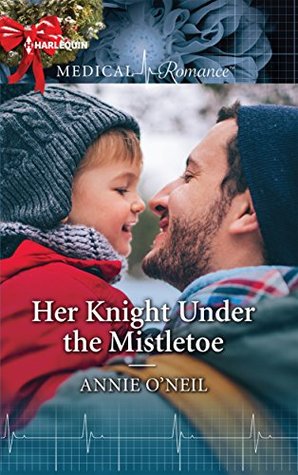 after the incredible night of passion they shared, but now they're forced to work together in a job share situation until the hospital decide which one of them to give the position they're both vying for to. However, Amanda has been keeping a secret from Matthew and when he discovers he has a son, will he be able to convince Amanda to take a chance on him, or will they lose their chance at happy ever after?
"I'm surprised you're a contender for this job," Amanda said.
Matthew shrugged and offered her a half smile. "And why would you think that?"
"Wouldn't your energies be better placed on the new wing?"
"On the contrary." He heard his smooth tones, but knew that heat singed every word coming out of his mouth. "I think you'll find there are medical professionals far better suited to that sort of work than myself. Like at the Sussex facility – we make sure we put in proper staff so that it ticks along quite happily without me."
Ms. O'Neil has become one of my go-to authors for Harlequin Medical Romances, and in this book she's delivered a wonderful second chance romance and enemy to lovers trope encompassing story where the two main characters are fantastic with their competitiveness; and the dialogue was riveting and had me hoping these two would be able to overcome the obstacles they face to be together such as Amanda's secret coming to light and the battle to win the job. The way this story started had me completely hooked, as both the hero and heroine assumed the job would be theirs and to learn they're going to be sharing the job is a total blow. However, it was from the moment the hero and heroine came face-to-face for the first time in this story that this book became very interesting, as it appears battle lines are drawn and both are ready to show why they're the one that should get the position they are both vying for. Will it be Amanda or Matthew?
"The charity ball was a…a very nice night."
He eventually allowed. "That's putting it mildly."
Amanda stretched her leg out and gave him a playful shove on the knee, but not two seconds later the light left her eyes. "When I saw you it was like coming out of a coma."
"With you looking so miserable, I don't know if that's a good thing or a bad thing," Matthew joked, only to receive another play-kick. "It was a very good thing…even if it did cost me."
"Cost you how?"
"Oh…my parents didn't like my decision. They thought my keeping Tristan was like wearing a scarlet A – proof I had never really grown out of my wild-child phase and…"
Both the main characters kept me entertained from start to finish with their back stories; their competitiveness for who will get the job; and their growing relationship. The heroine has never felt good enough for her parents because she didn't fall in line with their plans for her future. Still, she's accomplished so much, has a lot to be proud of and I loved her feistiness and determination to prove she has what it takes to get the job. She's also a very good mother and would do anything to protect her child, even if it means distancing herself from her parents because she knows they don't approve. While the hero, he's lost people he cared about and the guilt over his brother's death closed him off from getting close to anyone. However, he's different with Amanda. Indeed, he's confident, hard-working and I liked how determined he was to win the heroine over once he discovered what she was hiding. Will the heroine give the hero a chance?
"What do we say when we put the star on the tree?" she asked.
Matthew smiled up at Amanda, and together the three of them chorused, "It's time for a Christmas miracle!"
As Matthew loosened his grip on Amanda's legs she slid down until her toes touched the floor. He tugged her in tight. "You know you're my miracle, don't you, love?"
Overall, Ms. O'Neil has delivered a wonderful read in this book where the chemistry between this couple was strong and convincing; and the ending had me glad the heroine realized that she loved the hero before it was too late, especially after what happens to cause their relationship to go awry. Certainly, the heroine's words are precious to Matthew because what he's been through has made him the resilient and remarkable man he is. However, it was the epilogue that wrapped this story up superbly, as this couple have come a long way since their very first night together and I loved the surprise the heroine had for the hero. I would recommend Her Knight Under the Mistletoe by Annie O'Neil, if you enjoy second chance romances, the enemy to lovers trope, or books by authors Amy Ruttan, Alison Roberts, Amalie Berlin and Carol Marinelli.

Book Info:

Publication: December 1st, 2017 | Harlequin Medical |
All the single mom wants for Christmas…
London ER doctor Matthew Chase is shocked that his new role has become a job share with Dr. Amanda Wakehurst—the last woman he expected to see again.
Matthew is also unaware he's the father of her little boy, until Tristan is critically injured. Yet Matthew is there to support Amanda in her hour of need, and he proves how much he wants to be Tristan's dad. Dare she hope he still wants her, too? Being together as a family this Christmas would be her ultimate gift…