In Her Submission (Dirtier Duet #2) by Lisa Renee Jones , Abbie's life was altered in ways she's only now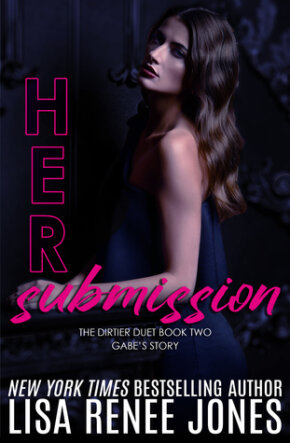 beginning to understand since she met and began to fall for handsome lawyer Gabe Maxwell. With her ex-husband making her life hell, she just wanted legal counsel to back her up and help her find a way through the mess. But Gabe has now become a big part of Abbie's personal life as well. He's a man who commands attention but who can also be attentive and kind. And she knows he'd never intentionally hurt her. But given her past bad luck with relationships, Abbie isn't sure she's ready to get too emotionally involved again. Or that she's willing to put Gabe in danger when it all goes south.
"A promise is nothing but words. Words aren't enough for me. You need to know that."
"I don't know what that means."
"Your truth, my truth, is in what we do."
He's right, of course. My ex made promises. Those promises were lies.
Gabe had pretty much planned on being a lifelong bachelor until he saw Abbie. Then it all changed. Now with someone to fight for and a happy future to plan together, he wants to be the one to slay her demons. Even if she's independent and gives him hell at every turn for trying to take over her fight against her ex. When the chaos around them drags both of their families into the mix, Gabe buckles down to keep his loved ones safe. But he has to admit that even though the strength of the bond between he and Abbie scares them both, they are so much stronger when dealing with their issues together. And he hopes this truly will be the beginning of a love that will last their lifetime.
'When she looks at me, there is a swell of emotion between us that says more than words and it's not just about sex. We're connected. We're the real deal.'
Hot romance and a good dash of intrigue turned Her Submission, the finale in Lisa Renee Jones' Dirtier Duet, into a page-turner of a book sure to keep readers captivated.
"You said–"
"That I was scared, and I am, but I get it now. You are, too. So let's be scared together."
He cups my face and stares down at me, searching my eyes, looking for truth and then saying, "Yes. Let's be scared together."
First off I should mention that you will want to read this duet of books in sequential order. Book two picked up exactly where book one left off and boy didn't it start things off with a bang. Lisa Renee Jones turned up the heat level between Abbie and Gabe and she also threw everything she could at them in regard to personal and family issues, just to see how they would react. And I'm happy to say that even though there was some angst and doubts, our couple eventually formed a solid team who battled their demons side by side. *happy sigh*
As with most LRJ books I've read, especially those that revolve around the characters we've met in this "world" that overlaps with her other Dirty series, the plot moved quickly and was complex–as were the relationships we watched grow and change. Gabe and Abbie were ridiculously hot together and oh so sweet as well. I thought they were a great combination. They both had strong personalities and would duke it out verbally if they felt slighted or if they needed to stand up for a loved one. And they were both damaged by events and/or people in their past. The fact that Abbie and Gabe were quite kindhearted as well was a big plus. Something we got to see in the previous book, which carried over here, when they adopted a rescue dog Gabe named Dexter. What. A. Hoot!!! Readers will be sure to fall in love with Dexter as well as with the couple that Gabe and Abbie become by their happy ending here.
Her Submission was the perfect sexy conclusion to a wickedly sinful duet of books. With lots of dramatics, soul-searching, bonds being tested, and a love meant to last, how could it be anything but wonderful, right?
Book Info:

Publication: April 23rd 2019 | Pub: Julie Patra Publishing | Dirtier Duet #2
The second and final book in the Dirtier Duet by Lisa Renee Jones.
Abbie swore that she was done with rich, powerful men. They've hurt her. They've hurt her mother, who she will do anything to protect. She's done playing the submissive. She's ready to fight back.
The problem is that Gabe Maxwell is one of those rich, powerful men and he refuses to be ignored. He's in her path and she can't seem to steer clear of him. He wants her. She wants him. But it's not that simple.
There is more to her story, more than Gabe knows, but then, there is more to Gabe's story than Abbie knows, too.