Hot Texas Sunrise (Coldwater Texas #2) by Delores Fossen is the second book in her Coldwater Texas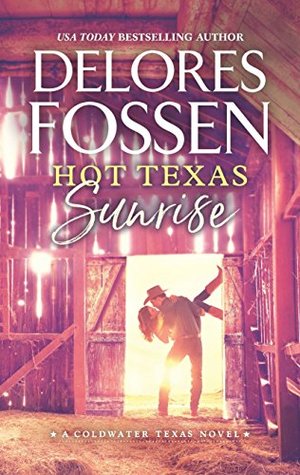 series. This story encompasses a great sense of love and family.
Cleo Delaney's best friend and single mother of three boys, Miranda Morrelli, has died and her sons have been placed with their drunken and abusive grandmother, Lavinia Mercer. Miranda wanted Cleo to raise her boys for her but the paperwork granting guardianship to Cleo didn't get done in time. Cleo needs a plan to rescue the boys, Beckham, Issac and Leo. Child Protective Services won't accept her for fostering for a couple of reasons. Her plan…. get Deputy Judd Laramie to apply to foster the boys, in name only, while she actually raises them.
When she brings Judd to Lavinia's house they find a great mess. Shortly after their visit the boys run away. Judd finds them and takes them to the ER in Coldwater to get documentation of how Lavinia physically abused them. CPS is involved and there will be all kinds of hoops to jump through so Cleo can raise the boys she loves. Will Judd help? Will this plan work?
Hot Texas Sunrise by Delores Fossen is the second book in her Coldwater Texas series. This story encompasses a great sense of love and family. As discovered in the first book in the series the Laramie brothers grew up in the foster system and had some truly rough times until all four brothers were placed together with Buck McCall. The depth of the damage and hurt when a foster placement goes wrong is brought home with the backstory of the Laramies. No one wants the three Morrelli brothers to face lots of difficulties.
How this author writes about the determination of Cleo Delany to keep the boys she loves is inspirational. The depth of the character development is impressive and the storyline was so compelling that I just had to see how the book ended all in one sitting. Anyone looking for a story with depth and lots of loving character interactions will enjoy this book.
Book Info:

Publication: March 26th 2019 | HQN Books | Coldwater Texas #2
Love was the last thing on this untamed cowboy's mind…until she stole his heart away.
Cleo Delaney will do anything to keep her promise and raise her best friend's sons—even if it means telling a little white lie to the state to keep them. So Cleo turns to the only person she can trust to help her—her first love, Judd Laramie. If he fosters the three young brothers in name only, she'll do all the heavy lifting. It's a foolproof plan…but she never imagined that the feelings they once shared would return. With a vengeance.
Texas deputy Judd Laramie is stunned by Cleo's request. Being a dad—even on paper—is the last thing this cowboy needs right now. But no one knows better than Judd how flawed the foster system is and how much these brothers need Cleo's protective love. What starts as a simple lie becomes so much more, and soon it's clear Judd needs Cleo and the family they've created as much as they need him. Now he'll do whatever it takes to win Cleo's heart and claim the future they all deserve.