High Seduction by Vivian Arend will bring you right into the heart of action.
Erin is a the helicopter pilot for a SAR team based in Banff, Alberta. She is independent, strong and very courageous in her work life but she's not always as confident in her personal life and relationships. For Tim, a paramedic who is also SAR, Erin is the one who got away. He has never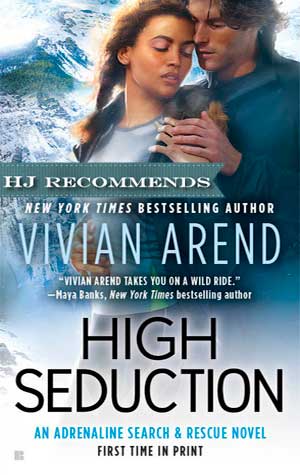 forgotten her, never gotten over her. He hasn't seen her in years, but she is still what he wants, what draws him to Banff and work at the same company as Erin.
Erin and Tim were an item when they were younger. Thanks to youth, love and experimentation, Erin came to the realization that she had parts of her self and desires she hid, instead of facing them, when confronted with them, she ran. She felt confused and ashamed, leaving Tim confused in her wake.
Now that they have matured and Tim is on the verge of reconciliation with Erin, he is not going to give up again. Erin is sure she can work with Tim and maintain a professional distance. At work maybe, but soon she realizes Tim is impossible for her to resist. Tim takes her to places she wasn't sure she wanted to go. On the job Erin is in control, but in the bedroom she has no control…nor is she sure she wants it.
Erin and Tim are quickly renewing their relationship. Erin is going to have to decide if she has the courage to let go of her inhibitions, and be and do what is right for her. She needs to find out, to trust herself and her feelings.
Between their job and their personal lives, Tim and Erin are spending a lot of time together…and when they get the chance for a few days down time they grab it – taking Erin even further into where she always wanted to go but never thought she would. Work and unexpected danger threaten to put an end to it all though. Have they waited too long for a second chance at love?
Tim and Erin are a hero and heroine that will really capture your interest and heart! I would have liked more background on them so that I could better understand their characters, but Vivian makes up for this by giving us so much detail on who they are today. Tim is patient, dominating and self assured – traits that on the surface might seem self serving, but he is far from that. His characteristics, who he is, help give Erin strength and courage, really help her grow and open herself up to change and chances. I loved this! Erin and Tim are believable, realistic characters who are easy to relate to.
Vivian writes all of the scenes with feeling, blending Erin and Tim's personal and professional relationship well. She creates a good balance between everything going on in High Seduction from hot and kinky sex to action/adventure, mystery and suspense.
There are a lot of secondary characters in High Seduction, and the interactions between them and with Erin and Tim are all very relevant and necessary to High Seduction and this series. Vivian keeps everything clear, flowing smoothly and easy to read. I believe that High Seduction could easily be read alone if you haven't read the first two books in the series.
High Seduction gives us it all! It is the hottest book in the series so far, and Vivian did manage to surprise me at the same time that she pulled me in with the intensity of her writing. Vivian gives you action, plot twisting suspense of a few varieties, great scenery descriptivism, and lots of very hot sex. Vivian will grab you, easily absorbing you in the action. High Seduction is about trusting yourself and those you love, acceptance and passion. I would highly recommend High Seduction to any romance reader looking for all of that in a second chance love.
Book Info:

Published February 4th 2014 by Berkley Sensation
LIFELINE: an elite search-and-rescue squad based out of Banff, Alberta. Specializing in high-risk rescue missions, this team goes wherever the job takes them…
As the chopper pilot for the elite Search and Rescue team Lifeline, Erin Tate is used to handling power. Calling the shots in the air is one thing—in the bedroom it leaves her cold. What she wants is a man strong enough to strip away her control.
Paramedic Timothy Dextor has a wildcard reputation, and the dark appetites to prove it. The only thing missing is a woman he can share them with. Landing a position on the Lifeline squad puts his old flame back within reach. He already knows what Erin needs, and this time he's not letting her go..
But when an emergency throws Erin and Timothy together in ways they hadn't anticipated, the stakes are raised—on the job and off. Now they'll both discover the real meaning of control…and the risks that come from falling in love.(less)