The Rancher's Second Chance by Victoria James is another wonderful book from the Entangled Indulgence line. Ms. James is a talented writer and I look forward to reading her work.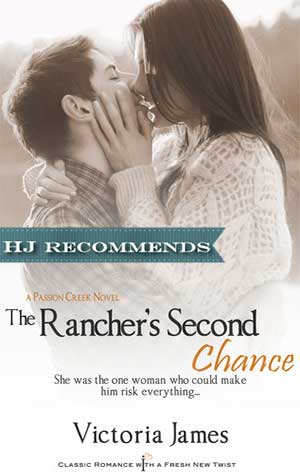 Melanie Simms has worked very hard to establish herself as a Wedding Planner. She put herself through college, once her extremely wealthy family, most specifically her father, disowned her for speaking her mind and pursuing her dreams. Melanie's sister wasn't as strong and ended up staying with their abusive father and submissive mother for many more years. Lucky for Melanie, she has a few good friends that are her family now.
Cole Forrester lost his beloved wife to cancer at a very young age. It took him years to move on with his life and running his family's ranch certainly keeps him busy. He doesn't believe he could ever fall in love again and purposely has kept his heart closed in order to never experience such heartache again. However, with Melanie around, planning his sister Cori's wedding, he begins to open his heart. Melanie and Cori have been friends for years, both attending the same boarding school. Melanie has always found Cole to be a hot, hunk of cowboy.
Melanie and Cole end up planning some of the wedding together because Cori is stuck on the west coast healing from emergency appendectomy surgery. Due the the meddling of Mrs. H., Cole and Cori's mother-like housekeeper, Melanie and Cole begin to see each other in a romantic way. Gage, Cole's best friend and ranch foreman, also does a little matchmaking himself. Being stranded in a cabin during a snow storm forces them to talk, which quickly evolves into much, much, more. By the time it is Cori's wedding day, they are in love.
I really liked this book. To begin with, both Melanie and Cole are well defined and described, which enabled me to really get to know them and their ideologies. Ms. James does a wonderful job of evolving her characters, so understanding their desires and fears is easy. The story moves along at a nice pace, giving the reader sufficient time to take in the emotional dialogue and ponder it.
The secondary characters show real promise for their own book. Melanie's sister Meridith and Gage, seem to have formed an unspoken bond in a very short time. Mrs. H. adds some laugh out loud moments with her matchmaking antics. Overall, another fine read from Victoria James.
Book Info:

 Publication: March 10th 2014 by Entangled: Indulgence
Widowed rancher Cole Forrester is all about running his family's ranch and guarding his heart. The last thing he's looking for is love, but when his little sister can't make it home to handle some of her wedding details, he's forced to entertain the event planner, Melanie Simms. Melanie is everything he's not even remotely interested in: she's high-society, complicated, and high maintenance. But when he's stranded with her at his remote cabin in the Colorado mountains, he realizes he's seriously underestimated her. She's hiding something about her past from him, but despite everything, he finds himself falling for the last woman he ever expected, and the first woman to make him want to give his heart and risk everything…