Highest Bid  by Mel Teshco is the first book in her Bachelor Brothers of Sydney series. This is a fun first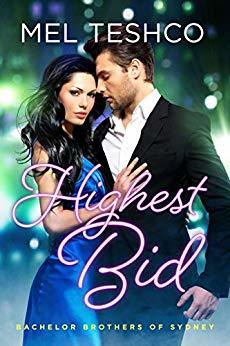 book in the series. There are scenes that will make you chuckle and there are serious times too.
I don't know why I like the auction trope so much, but I do. Whether it's the sweet; the ladies bring picnic baskets filled with their homemade specialties for a picnic lunch with the guy who places the highest bid and ends with a sweet relationship or the spicy hot where the ladies go with the highest bidder for an evening of… you can guess …that ends with a hot relationship, I just really enjoy this trope.
In this story Galan Black works with his two brothers who own the Black Pearl Nightclub. Galan is the ultimate commitment-phobe until he hires Layla Selvey. At the club's yearly charity auction where the rich gather to bid on an evening with a beautiful lady Galan is shocked to see the always very conservatively dressed Layla on the stage wearing nothing much, pasties and a very short skirt made of peacock feathers with a feather train. Who knew Layla was hiding an absolutely gorgeous body under those conservative clothes. The men in the audience are going wild with bids. Galan has had Layla on his mind for six months, ever since he hired her as a waitress/bartender for the club. No one else was going to win an evening with Layla but him! Guess how much he bid. Mr. Commitment-Phobe Black has met his match.
I was fascinated with the author's path for Layla and Galan to find happiness. Both these characters are complicated but interesting and I must say the sex scenes are scorching. Mel Teshco is a new author to me but I am glad I discovered her. I look forward to the stories of Galan's brothers.
Book Info:

Publication: August 26th 2019 | Tule Publishing | Bachelor Brothers of Sydney Book 1
An unapologetic player and a reserved wallflower… one night would never be enough
Galan Black carries a burden he can't share with anyone, least of all his two brothers. Not even after the blood, sweat, and tears, it took for them to open and make the Black Pearl Nightclub a raging success. He's just glad his secret doesn't haunt him half as much in the arms of the eager women he takes to bed.
Yet he can't stop thinking about the plain Jane bartender and waitress, who he impulsively hired against his better judgment. Then she steps half-naked onto the stage for the club's once-yearly charity auction, and he can't keep his bidding paddle down, or his eyes off her. He'll have her for the night, and get her out of his system once and for all.
Layla doesn't trust men, yet her infatuation with the eldest Black brother is getting beyond a joke. She needs to experience a night in his bedroom, and get over her silly fixation. But then one night becomes two, with the heat between them showing no signs of cooling. Until Layla's trust is put to the ultimate test and dirty little secrets are exposed.