Hired by The Forbidden Italian by Cathy Williams is a May 2022 release which grabbed my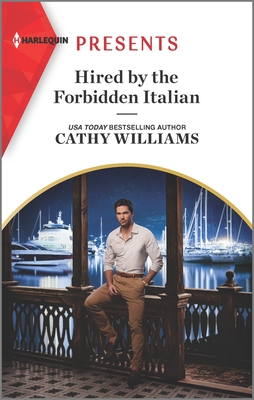 attention from Page One.
Left in the lurch by his Aunt, Niccolo is stuck. Summer holidays are about to commence and his Aunt is THE best housekeeper/nanny. She looks after both Niccolo, his daughter and their home perfectly well while he's busy making his billions. His Aunt is convinced her friend Sophie is the perfect stand in and assures Niccolo all will be well. Expecting an older lady similar to his Aunt, Niccolo is shocked when Sophie is not only younger but stunning as well. Sophie is everything opposite of what his daughters stand-in Nanny should look like!
Attraction simmers and raises to a steady boil once Niccolo and Sophie board the luxury yacht. The style of writing and the humour caught me and I couldn't put this one down. Sophie is brilliant. She's funny, clever, pretty and adorable. Niccolo is just as likeable, he's a hard worker and very strict about his daughter's quality of care. He makes a great Hero.
I feel this story captured the Presents world so well. The author cleverly peppered humour amongst the perfect mix of unimaginable wealth; exotic locations and animated, heated and fiery exchanges; both verbally and physically. A hardworking Billionaire crossed with a clever, witty and very likeable heroine. The characters were more than 2 dimensional and I loved Niccolo's daughter. I'm sure that this style captures what I would describe as uniquely Cathy William's style – fun and decadent and I'm here for it!
Book Info:

Publication: May 2022 | Harlequin Presents |
Urgently in need of a nanny for his young daughter, superrich Italian single father Niccolo Ferri hires Sophie Baxter to accompany them on a business trip aboard his superyacht. Niccolo's only priority is his child, but he finds himself unusually intrigued by his temporary employee…
Working for Niccolo is what's keeping Sophie financially afloat. So her connection with her sinfully sexy boss can't be anything more than professional. Because Sophie knows she'll be in far too deep if she has even one taste of the forbidden!