The Sicilian's Defiant Maid by Carol Marinelli is a May 2022 release which has all of the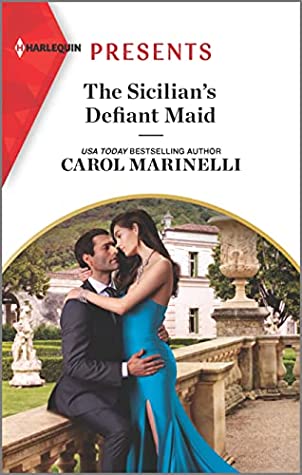 adventure, intrigue and romance that I'm really enjoying from the lastest Presents.
This wonderful adventure is so hard to summarise. Centering around Alicia and Dante who know each other from childhood and how their worlds came together then parted; it makes sense when they see each other in their grown up life that Dante is cynical of Alicia's motives. The plot was adventure heavy, feelings heavy, exciting and very emotional. The stark changes between their childhood selves and their adult selves were well explained and the side characters added to the story.
I feel the blurb doesn't nearly help explain the ride I was in for when I commenced this exciting read. Driving the plot is Alicia's longing to find her "twin" sister who she grew up with in a little orphanage run by nuns. Entwined in this mystery is Alicia's reconnection with her childhood love Dante and with the well placed flash backs, i really feel this story had all the bones to make a hugely enjoyable novel. I can not for the life of me imagine how on earth the author plans on delivering Alicia's sister's story. I'm very much looking forward to this.
Adored this story and I recommend for all. One of the most enjoyable Carol Marinelli stories I've read and feels like the emotional journey of her older stories.
Book Info:

Publication: May 2022 | Harlequin Presents | Scandalous Sicilian Cinderellas #1
Billionaire Dante Schininà is suspicious when he's woken in his hotel room by Alicia Domenica. Ten years earlier, he had to walk away, but the raw sensuality of their last encounter is unforgettable. Feisty chambermaid Alicia is still captivating, but cynical Dante is sure she wants something…
Alicia needs Dante's help finding her missing sister. When he agrees in return for a weekend in Sicily, she can't refuse, but she's determined to stay out of his bed. Yet the fire between them ignited long ago…and every second together fans the flames dangerously high!