In His Christmas Sweetheart by Cathy McDavid, Miranda Staley is the owner and nurse running a home for elderly residents. After the fire that burned half of Sweetheart, Nevada, Miranda swore that she would stay and help bring the town back to life. But things are not easy, she is loosing residents, and there are not many elderly people in need of a home.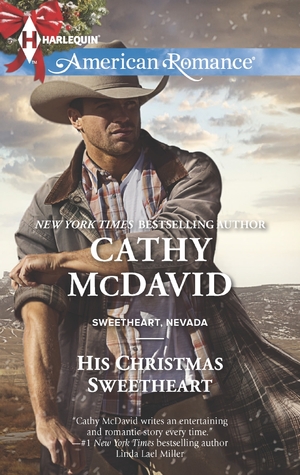 Now she finds herself behind on her mortgage payments and unable to refinance because of it. Miranda needs to find a way to bring enough income to keep her home.
Will Desarro helped Miranda during the wildfire when her residents were in a panic and would not help to evacuate the premises. Ever since he moved to Sweetheart he has liked her, but she never noticed him. Which was good for him considering that he does not believe that he will be able to keep a relationship without having a panic attack and driving that person away the way that it happened with his ex.
While Will visits Mrs. Litey every other day at the elderly home, he makes sure that Miranda will not be there. He knows that Mrs. Litey confuses him for her late son who died while in combat. But if his visits help her even a little he is glad he can help, and she helps him by reminding him of his late grandmother.
Will has achieved enough coping mechanisms to keep his PSTD attacks at bay, but whenever he interacts with Miranda for too long he starts having them, if he can snap out of it he is fine, but if he can't he feels like he is going to die. Unfortunately since no one knows about his past and he keeps to himself a lot, no one has helped him. But when Miranda starts working at the only bar in town where he finds solitude around people, Will will have a hard time to keep her at bay.
Miranda knows that men like looking at her, and sometimes she uses that to her advantage. But for some reason Will doesn't act like every other male, which only makes her work harder to get his attention. When she sees Will leaving the bar, she decides to take a quick break and follow him outside and kiss him. Only he doesn't react and she starts feeling humiliated and embarrassed, but as she is pulling away she soon finds herself being crushed by him and being kissed senseless. Unfortunately, Will soon pulls away and just leaves without even saying a word to her.
While the attraction is mutual, it's going to take a lot of work on Miranda's part to convince Will to give them a chance. But once a relationship between them starts things will not go any easier for her financially and decisions made without talking about it together first can put their entire relationship at risk.
And it's going to take a lot of courage and determination on Will's side to be able to get past his PSTD and fight for the love he found and one he doesn't want to lose.
His Christmas Sweetheart by Cathy McDavid is set at Christmas time, which brings the toughest time for challenges and problems. But miracles do happen and with the help of the people around her, Miranda and Will may just be able to have a Merry Christmas and a very happy New Year.
Book Info:

Published November 5th 2013 by Harlequin American (Book 1474) | Series: Sweetheart, Nevada
A HOLIDAY FOR HEALING
Nothing's been simple in Sweetheart, Nevada, since the wildfire that ravaged the charming little town. Miranda Staley is among those who've sworn to stay on and bring Sweetheart back to life. She loves running a group home for the elderly, but it's getting difficult to keep her business going. She could lose everything she's worked so hard to create.
On the day of the fire, Will Desarro helped save some of Miranda's elderly residents. The handsome ranch hand is a man of few words, but Miranda soon discovers that beneath that quiet exterior beats a heart of gold. Will can help save Miranda's home and her business—but only if their love is strong enough to conquer his painful past.