His Enemy's Daughter by Sarah M. Anderson (HQN) is an enemies to lovers romance (clear from the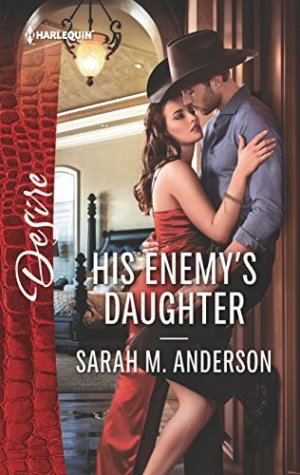 title!) with a pair of characters vying for control of a rodeo while trying to ignore the chemistry between them.
Pete Wellington has never forgiven his father for losing the All-Stars Rodeo to Chloe Lawrence's father in a poker game. For the last ten years, the Lawrence family has been running the show. During that time Pete has made his own fortune with oil and tried multiple times to buy back the rodeo business – with no success.
Pete figures the only way to get back in control is to work on it from the inside, and hatches a scheme with some of the older contractors who aren't keen on Chloe's progressive ideas of having women riders compete. They make trouble, he offers to step in as manager and Chloe agrees. With his help Chloe can pursue her plans while leaving more of the day to day operations to Pete. He plans to use his time to slowly push Chloe out. What he doesn't plan on is the mutual attraction between them. When he starts to fall for Chloe, will he forget about his thoughts of revenge and pursue a mutually beneficial future together instead?
This is a fun and sexy Western romance! Chloe is smart, and she knows that Pete is up to something, but she's so overwhelmed trying to keep the All Stars Rodeo afloat that she welcomes his help even while she remains suspicious of his motives. No one, including her family, gives her the respect she deserves and sees the hard work she's putting in to make the rodeo a continued success. But Pete sees the truth. Since his goal is to keep the rodeo in good standing while edging Chloe out, he is in fact quite helpful as a manager while she works on the PR and marketing plans for the future. Acting on their mutual lust for each other results in some sexy scenes, even while they try to keep their emotions in check. When Pete finds Chloe at vulnerable moments, he's too far gone to take the steps he'd need to be truly dastardly and ends up being her protector instead. When he finds himself wishing he could have the rodeo AND Chloe, he knows his plans are in jeopardy.
When Chloe's family finds out that she's hired Pete they are not impressed. They want her to fire him, but she decides she's willing to put her faith in Pete after all. There are some blowups, some facing reality moments and some hard lessons to learn for Chloe's family and for Pete when they realize how they've let her down by not believing in her ability to run the rodeo. The hot-headedness of Chloe's brother Flash gets them in more jeopardy, but just when Chloe is ready to throw in the towel, Pete is the one to support her and convince the others that she's the right woman for the job. I loved how the story came together and gave Pete and Chloe the happy ending and future they deserve. If you're a fan of Western romances, this series should be on your shelf!

Book Info:

Publication: July 1, 2018 | Harlequin Desire | First Family of Rodeo #2
To get what's rightfully his, he'll need to get past her.
But this ain't her first rodeo…
Pete Wellington's mission: take back his birthright, the All-Stars Rodeo. First, he must earn the trust of Chloe Lawrence, daughter of the city slicker who stole Pete's legacy. But this princess of the rodeo isn't who he imagined. Chloe has beauty, business savvy and spirit, leaving Pete to wonder…has he been aiming at the wrong prize all along?