In His Fantasy Maid by Susan Blexrud Amy Maitland is a doctor in training working 80 hour weeks while balancing a part-time job as a fantasy maid. In two hours, she legally earns $150 for for cleaning a client's house in a bikini or french maid outfit. Her lucrative income allows her to pay off her student loans extremely quickly, while keeping up with her busy hospital schedule. Since cleaning in a scantily clad costume has the ability to sabotage Amy's career, the only other person who knows about it is Ellen Kurtz, Amy's best friend and colleague.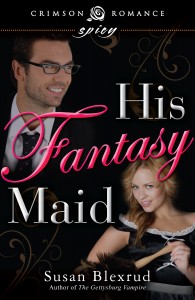 Due to a car accident, one of Amy's cleaning clients, attorney Jake Sinclair, becomes a patient. Jake has a concussion and a few broken ribs. Amy and Jake shared an intense kiss while she was cleaning his place and their chemistry was undeniable. Unfortunately, Jake is engaged to Claudia, a wealthy, first class bitch who makes trouble for Amy once she finds out about her cleaning career. Claudia sensed Amy's and Jake's lustful pull in the hospital and her jealously discreetly erupted. She contacted Amy's boss and managed to tell one of Amy's five overprotective brothers about her secondary job. Needless to say, Amy resigned and focuses entirely on her medical career. Her debts will have to be paid at a slower rate.
Jake is really taken with Amy and can't stop thinking about her. Luckily, he finally sees for himself that his fiance has a mean streak and ends their relationship. Now Jake can concentrate on healing and finding a way for Amy to like him again.
Amy agreed to clean one more place when she quit. The location isn't in the best neighborhood and once she gets there, she second guesses her decision. Thanks to Ellen, Jake meets up with Amy before she enters the dilapidated dwelling. Most likely she would have been safe, however, you never know when the client looks like Lou Ferrigno, wearing only a loin cloth. Jake saves the day. Six weeks later, Jake is completely healed and they take their smoldering relationship to the next level.
Wow, what a unconventional story! His Fantasy Maid by Susan Blexud is original, fresh and romantic. The plot moves along effortlessly at a nice pace and one of the characters is truly vindictive, which gives the story a backstabbing twist. This extremely well-written book is a little gem with lots of fluster.
This is a hot, quick read and you will enjoy it!
Book Info
Publisher: Crimson Romance (May 20, 2013) Spicy
On the eve of Jake Sinclair's bachelor party, his best man surprises him with a fantasy maid named Amy. Clad in a bikini, she cleans his house and jump starts his heart. She's beautiful, smart, and compassionate. Why is a woman like this working as a fantasy maid? A few days later, his thoughts still distracted by the enigmatic Amy, Jake crashes his car and wakes in the hospital emergency room where his fantasy maid is now wearing scrubs and wielding a stethoscope. Is she a hallucination, or is his fantasy maid a doctor?
Sensuality Level: Hot