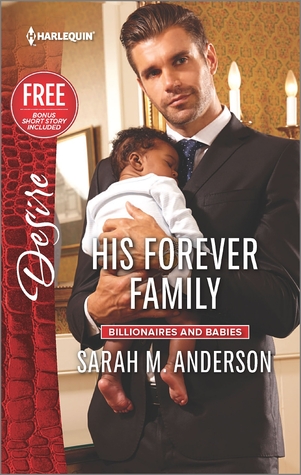 His Forever Family by Sarah M. Anderson: The boss and his executive assistant, it just sounds like a bad scenario, right?
Liberty Reese knew her crush on her boss was not going to end well. Not that that stopped her from having that crush or from denying it as well. In fact the more she became attracted to him the more she fought it. Her past was something she kept in the past and with him, she knew it would be revealed and she couldn't have that. She would just have to keep pushing that crush away.
Marcus Warren knew he didn't want to live up to the Warren name. He wanted to be his own man, he needed to be. Yes, he worked hard, and yes, he pushed the limits but he was going to do what he wanted to do and keep growing his companies and his future. He did know though that he wasn't going to do it alone. Marcus knew he needed his assistant Liberty more than he should.
One day out for their morning run their worlds would change and nothing would ever be the same, but I suppose the question is would either one of them want it to? Secrets will be revealed and decisions must be made that will affect everything going forward.
Ms. Anderson has done a fantastic job with this novel and leaves her readers with the happiest of feelings. Her characters have an amazing depth to them that is unexpected. The plot line has depth that ranges further than just romance. This is one of those stories that just defies words. Definitely a book that needs to be picked up and devoured, so what are you waiting for?

Book Info:

 Expected publication: February 9th 2016 | Harlequin Desire |
Found: one baby…and the boss's future bride?
Tiny and helpless—the abandoned newborn that venture capitalist Marcus Warren finds during a morning run takes him by surprise. So does the sudden longing for his capable assistant, Liberty Reese, who reveals her tender side with the baby.
But Liberty must resist her gorgeous boss's advances. Her secrets could destroy his trust, her career and the chance to care for the foster child they are both coming to love. Even so, she can't deny the heat between them—or the fear that her past will end their chance to create a forever family.