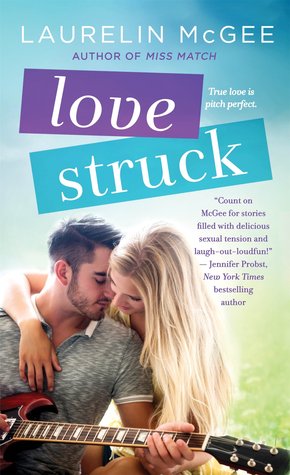 Love Struck by Laurelin McGee: LoveCoda and Folx have been online friends for year now on Song Writers Anonymous, helping each other through their musical woes and becoming each other's confidant. Their conversations are what Lacey and Eli look forward to every night, if only they actually knew who the other was.
On tour together and in the dark still, Lacey and Eli begin to fall for each other even as they love the online counterpart. But Lacey's been blocked lyrically ever since her fiancé died a year ago, so she'll use whatever means necessary to get over the block, even if it means betraying what her instincts tell her.
As confusion blooms over whose identity is whose, this love match may not be, after all.
"Eli. Are you asking me to make music with you?"
"Yes, Songbird, I am." He lowered his eyes, seemingly suddenly embarrassed. "You can take your time and think about it if you need to."
"I don't need to. The answer is yes. Definitely yes."
I love McGee's voice and her characters. She develops them well, although they came across a bit younger than they were, and the fire is hot hot hot between our two heroes. I loved Eli and Lacey together, both online and not. They're both confused about their relationships with each other and others, but I love them for how they keep going back to one another, and, in the end, nothing can stop them from being apart.
That said, the confusion over their identities bothered me a bit much. It went on too long and while I enjoyed being with them, it also annoyed me how it never came out and the kind of emotional distress that it caused. Also, Andy from Miss Match struck me as annoying her. I loved her and Blake in Miss Match, but something went wrong with her behavior in Star Struck.
Even so, Eli and Lacey connected on a fantastic level, both online and not. It's easy to see they're perfect for one another, despite their problems.
Even with my issues with the story, I loved Star Struck and I wholly recommend it if you want a musical read with a sexy, soulful hero. The second in a series, you don't need to read Miss Match first, but I definitely recommend it. I absolutely loved Miss Match.

Book Info:

February 2, 2016 | St. Martin's Paperbacks | Miss Match #2
Welcome to a seductive world where two solo artists combine their talents-and their hearts-to make beautiful music together…
SHE'S GETTING INTO THE GROOVE
Lacy Dawson is a young singer-songwriter with a record deal, a studio gig, and a serious case of writer's block. After looking for love songs in all the wrong places, she finds inspiration at an online support group called Song Writers Anonymous. Thanks to one mysterious member who motivates her and inspires her, Lacy's career is back on track. But is she ready to meet her sexy musical muse…face to face?
HE MAKES HER HEART SKIP A BEAT
Eli is definitely interested in hooking up with Lacy, aka "LoveCoda." But between writing her new album and his band's success, they can't find the time to face the music-or each other-about their burgeoning online romance. All that changes when Eli and Lucy get booked on tour together. In person, the attraction is all too real and explosive. They both should walk away, but once they are in each other's arms, there is no turning back…