His Innocent's Passionate Awakening by Melanie Milburne: Having never left the comfort and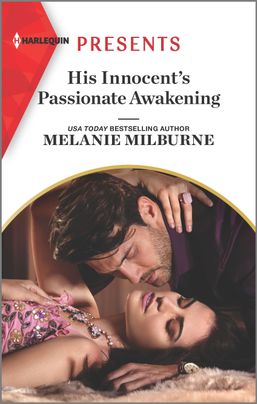 safety of her home, agoraphobic Artemisia finds her safe world soon crashing down on her. After an accident that Artie feels responsible for that left her father crippled and killed her mother, she has found it impossible to go back into the outside world. With the passing of her father Artie learns that her precious safe haven has actually been mortgaged to the maximum, having no assets to pay it off, Artie is left at the mercy of the new owner Luca.
Luca has his own past demons that lurk just beneath the surface, so when he comes across the beautiful traditional Italian girl that is afraid to lose her home and the only safety she has known for the past ten years, Luca strikes up a deal with her that could benefit both of them. All she has to do is marry him for six months and help cheer up his ill grandfather.
"You're everything I could ever want in a life partner. You complete me, complement me and challenge me to be the best man I can be. I can barely find the words to describe how much you mean to me."
I loved this marriage of convenience novel. Milburne has done a brilliant job with this romance and the play on the sleeping beauty theme. I liked that both main characters bonded over their shared guilt relating to the events that caused pain to their families. I will say that I liked that Artie was the one to push for them to be more open to their feelings and consummate their marriage.
I am a major fan of secondary characters and I loved that Rosa the housekeeper had her own side love story. I did like that Luca tried to help Artie over come her fears. The only downside for me was that I found the ending rushed and I would have liked there to have been an epilogue with maybe a time jump for us to see how their marriage progressed. Overall this was an enjoyable steamy read with loads of passion and heat.
Book Info:

Publication: June 1st 2020 | Harlequin Presents |
Untouched and unawakened…
Or redemption?
Rather than lose her beloved estate to ultrarich playboy Luca Ferrantelli, Artemisia agrees to wed him…on paper. Traumatized by a devastating accident, the heiress hasn't left the castello in years. She knows nothing of the world outside—nothing of a man's touch.
If there's a chance that marrying Artie will give his grandfather the will to live, Luca must do it. But he's determined to resist the addictive pull of Artie's vibrancy and vulnerability. Until their scorching wedding kiss stirs the beauty to sensual new life!