Real Men Knit by Kwana Jackson is a delightful family themed novel about loss, redemption and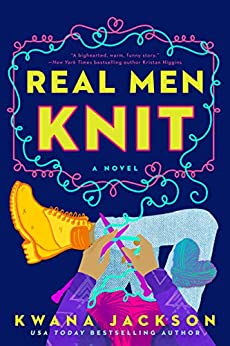 happy endings.
When the four Strong foster brothers Jesse, Lucas, Noah and Damian lose their adopted mother Mama Joy, it's a blow not just to them, but for their tight knit community. Mama Joy had been running her knitting store, Strong Knits for years and now with her untimely death, the brothers have to figure what the best path is for the store, and their futures. And their decisions will make an impact on many, including Kerry Fuller.
Kerry's been known for so long by the brothers as Kerry Girl, the young child who first starting coming to shop as a place of refuge and then seamlessly transitioned into a valued employee and friend of Mama Joy and the brothers, that it's been easy to overlook that she's now a lovely and compassionate woman. Well, perhaps Jesse hasn't quite missed that transition, though he hasn't let on. His reputation as the neighborhood playboy hasn't escaped anyone's notice including Kerry's. Now Jesse seems to think that despite his reputation as a layabout (not just with women), he's the best bet to keep the shop going. But he'll need help from Kerry to do it. She's had a crush on him for years, but never let it show. Can their joint efforts to save the shop lead to something even better?
What a lovely and evocative story! The author deftly deals with the passing of Mama Joy (off page prior to the start of the book) in a way that inspires empathy in the reader without being maudlin or depressing. The grief that all feel on her passing is heartfelt but not overpowering. More to it, the determination of the brothers and Kerry to do their best to live up to Mama Joy's expectations for them is the driving force behind their decisions. The setting is well described, with the Harlem neighborhood's daily lives and the impact Mama Joy had on so many at the forefront.
This novel veers more towards women's fiction, but does contain a complete couple romance between Jesse and Kerry, though it doesn't really start until later in the book. Much of the remaining pages deals with the four brothers and their relationships to each other and their beloved mother as well as Kerry's other job working at a children's center. They are all really interesting characters. Damian is an accountant, Lucas is a firefighter, Noah is a dancer. They all have multi ethnic backgrounds (Black, Korean and Latino) like many in their neighborhood. Their bond is Mama Joy taking them all in and making them a family. The financial reality is that the knitting shop has been losing money, and keeping it afloat with require more than just good wishes. Here's is where Jesse finally gets to prove himself to them, and to Kerry, that he is up to the task. And in doing so, he and Kerry end up working together and finally getting a relationship going between them.
While Kerry spends a lot of the time at the shop including setting up social media accounts to get their knitting shop online and visible for the re-opening, she also has just completed a degree in children's counseling and art therapy. Before Mama Joy's death she had been considering transitioning to a full time job at the children's center. She knows that's where her future lies, but she can't abandon the brothers or the shop when they need her most. Her best friend Val works there as well and keeps her grounded.
Obviously, you can't write a story about a knitting shop without featuring knitting! I loved all of the details that are seamlessly woven throughout the story about yarn and knitting. I'm not a knitter but didn't find anything overly technical. Showing children of all genders that knitting can be done by anyone is Kerry's focus at the center too, and bringing kids in for lessons is a nice touch if a little bittersweet with Mama Joy gone, though Jesse does an admirable job of taking over the task.
Real Men Knit is an overall quite delightful read from start to finish. Though I haven't heard if there will be more stories about Jesse's brothers, it certainly leaves open the possibility! Strong and interesting characters, a memorable setting and heartfelt emotions combined with a sweet romance make for a perfect summer read.
Book Info:

Publication: May 19, 2020 | Berkley |
When their foster-turned-adoptive mother suddenly dies, four brothers struggle to keep open the doors of her beloved Harlem knitting shop, while dealing with life and love in Harlem.
Jesse Strong is known for two things: his devotion to his adoptive mom, Mama Joy, and his reputation for breaking hearts in Harlem. When Mama Joy unexpectedly passes away, he and his brothers have different plans on what to do with Strong Knits, their neighborhood knitting store: Jesse wants to keep the store open; his brothers want to shut it down.
Jesse makes an impassioned plea to Kerry Fuller, his childhood friend who has had a crush on him her entire life, to help him figure out how to run the business. Kerry agrees to help him reinvent the store and show him the knitty-gritty of the business, but the more time they spend together, the more the chemistry builds. Kerry, knowing Jesse's history, doesn't believe this relationship will exist longer than one can knit one, purl one. But Jesse is determined to prove to her that he can be the man for her—after all, real men knit.