His Majesty's Hidden Heir by Lucy Monroe is the beautiful conclusion to Princesses by Royal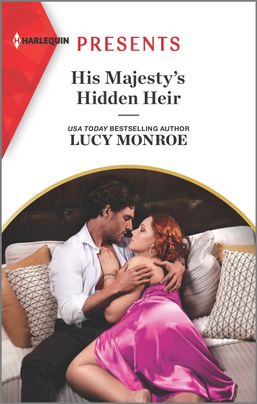 Decree duet.
I loved that Lucy Monroe jumped straight into it. Emma Carmichael can't believe it when she's standing in line at the bank and looks up to see the father of her son, Prince Konstantin walk past. Kon is shocked to recognise Emma too, but it's more seeing his mirror image son for the first time that draws a halt. Not one to much around Kon is on a mission to bring his son Mickey into his life and his mother too.
Lucy Monroe has penned a lovely story where Kon is doing is best to bring Emma to trust him and to join him. The past is set up well and provides a clear picture of the heartache Emma has gone through with their breakup and the restrictions the royal family put in place to block Kon from finding out he's about to be a father.
I really enjoyed the build that was put in place which showed Kon's determination to bring his son and Emma into his life. Both he and Emma were likeable characters but I loved Mickey's character the most. I understood Emma's hesitancy and mistrust and I enjoyed her walls falling and the romance building.
It was lovely revisiting old characters. The family drama added an extra layer and I just loved the patience of Kon. He was redeemed well with how he was described in the first installment but you can absolutely read it as a standalone. I recommend reading book one for the full effect.
Wonderful duet, thank you Lucy Monroe!
Book Info:

Publication: November 2021 | Harlequin Presents | Princesses by Royal Decree #2
Prince Konstantin can't forget Emma Carmichael, who vanished after a wedding contract forced him to end their relationship. A surprise meeting five years later shocks Konstantin—Emma has a son. Unmistakably his son.
Emma wants Konstantin in their son's life—yet she's wary. She'd had no choice but to walk away; his family hadn't deemed her worthy of being his princess. But as their reunion stokes the flames of their passion, can she trust that this time their bond is strong enough to prove them all wrong?
From Harlequin Presents: Escape to exotic locations where passion knows no bounds. Read all the Princesses by Royal Decree books:
Book 1: Queen by Royal Appointment
Book 2: His Majesty's Hidden Heir