In Just One Chance by Carly Phillips, Author Xander Kingston is getting ready for the upcoming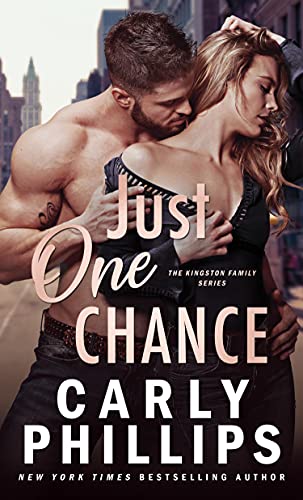 filming to begin on his latest thriller novel being turned into a big screen film. All was going well for the former Marine until he learns the new actress hired for a pivotal role is none other than his ex-girlfriend Sasha Keaton. The woman Xander once thought was the love of his life. But when she chose her career over their relationship, it all came crashing down. And since then, he's made sure to never fall for another woman. However, when Sasha knocks on Xander's door, hoping for a way they can work together without their past interfering, it all quickly starts again. The smoldering looks. The flirting that leads to kissing which leads to…more. And it leaves Xander wondering if they could actually have a chance to get it right this time.
'Holding her again, he finally felt whole.'
Sasha decided to be up front with Xander and start the ball rolling to put their troubled past behind them, finally setting things right. She didn't expect to instantly fall for his charms all over again. Even if, deep down, she hoped they'd be able to reconcile. But as filming begins and things are looking up between her and Xander, Sasha is threatened by a stalker who seems to be escalating. Between Xander, her best friend and assistant Cassidy, and a new security detail, she hopes they'll figure out who her stalker is so Sasha can concentrate on changes she wants to make in her career. And on what she and Xander seem to be building together as a couple.
"Xander, we're playing with fire with this. Us." She gestured back and forth between them. "The longer we stay together, the harder it's going to be when it ends."
"Because we're not going to hurt now?"
Off-the-charts chemistry and a complicated history made Just One Chance an unputdownable romance. But what else would readers expect from a Carly Phillips novel, right?
'For all they'd been through, this had been worth waiting for. She was so grateful they'd given each other just one more chance because now they had forever.'
I stand by my statement from when I read and reviewed Carly Phillips' first book in the Kingston series, Just One Night: she is the Queen of (Hunky) Alphas. Because if I thought the eldest Kingston brother, Linc, was sexy…wow. Then along came Xander. He had a lot going for him–aside from being hunky. (lol) He was in the Marines, then became a hugely successful thriller writer with his books soon made into blockbuster films, and Xander adored his siblings and mother. Okay, so it didn't hurt that he was also a loving pet dad to golden retriever Bella. The one thing missing from his life? A good woman. Something he thought he'd found in Sasha years before, only for it to fall apart when she let her career come first and left him in the dust.
I liked where Phillips took Sasha's character in this book. We start off almost having a bit of a negative view of her based on Xander's heartbreak from their first go-round. But then we learned about how young Sasha was when they first met (nineteen) and the people she had pushing her in her acting career at the time. It made sense why she reacted as she did. And thankfully Sasha had started figuring out what *she* wanted in life–and love–as she matured and was ready to make some major adjustments.
Xander and Sasha's relationship was scorching hot, with the chemistry nowhere near having dissipated over time. It was intense. It was supposed to be casual and no-strings-attached. But of course feelings got involved. And I loved every moment of their second chance romance–even the times I wanted to give Sasha or Xander a little shake to smarten them up. *grins* I think readers will also love the way Phillips wove in the thread of the next book, Just One Spark, which will be Sasha's best friend Cassidy and Xander's rock star bother Dash's story. It should be one heck of a ride!

QOTD: Have you read any 'family saga' series where each one of the siblings gets their own book?

Book Info:

Publication: Published October 12th, 2021 | CP Publishing | The Kingston Family #3
He thought she was the one…until she walked away. Now she's back and he wants her more than ever.
As a former Marine, Xander Kingston's writing keeps him sane. Bonus? His thrillers made him one of Hollywood's most desired screenwriters—and also introduced him to a fledgling starlet who broke his heart. With his close-knit family in New York, Xander returned home and found peace. Until Sasha Keaton shows up at his Hamptons retreat. Now an A-Lister, she's as beautiful as he remembers. And just as dangerous to his heart.
Sasha learned from watching her mother to never sacrifice her dreams for anyone—only to discover how empty life could be without the man she loved. Now cast in Xander's latest movie, she needs his insight to play the part, but secretly hopes for a second chance.
Xander has built emotional walls to keep Sasha at a distance, but their physical attraction can't be denied. When a stalker's threats intensify, Xander moves Sasha into his house to keep her safe. Before long she's back in his bed and making inroads in his life.
But when the danger passes and the movie wraps, Sasha and Xander face a familiar choice—put career first or give love a fighting chance.