More Than Words by Mia Sheridan: Jessica is mostly living out her dream of living and working in Paris.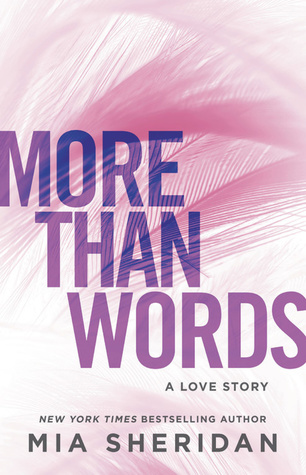 Her childhood escapes into stories and adventures turned into a love of history and translating historic works. Finding jobs to pays the bills isn't a problem, but she's still searching for the kind of work that will really challenge her and test her skills.
Callen has turned a difficult childhood into a very successful career as a composer. He has fame, fortune, and an enviable lifestyle of endless parties. He's very charming, sexy, and is never without a woman on his arm or in his bed. He's struggling with a severe case of writer's block and drowning out his fears with alcohol and women isn't helping anymore.
Callen and Jessica were best friends as kids. They both found each other as an escape from a home life filled with problems and pain. They brought each other comfort and went on a variety of adventures, led by Jessie, until one day when Callen disappeared without a word. It's over a decade later when they finally meet again.
"Hi, Callen."
He shook his head very slowly. "Jessie Creswell? You're…my God. You're…Paris…You're Jessie and you're here. How?"
"Yes…I…" What did he ask? How am I here? "Uh…well, I-I'm here for a job. I'm working here." I shook my head. "Not for the chateau, but at the chateau…and I'm staying here, temporarily."
Both are surprised to run into each other again. Callen is more than ready to resume their friendship and more, but Jessie has no desire to be left behind yet again. It doesn't help that Callen has quite the reputation for his many one-night stands. They agree to spend what time they can together and it's exactly what Callen needed. They get closer every day and she is the one of the few people he actually trusts. With Jessie, he is sweet, generous, romantic, and a better person. Jessie sees him for the man he could be, if he could get out of his own way.
"I don't know."
"Just you and me, Jessie. Like old times."
"We're not kids anymore, though, Callen. Things aren't as…simple."
"We can make them simple. Because this has to be temporary. We live on different sides of the world."
More Than Words is compelling, engaging, and emotional. Mia Sheridan pulled me in from the beginning and I didn't want to put this down. Ms. Sheridan provided drama, angst, hope, anticipation, and all the feels. Fans of Christina Lauren, Nicole Jacquelyn, and Colleen Hoover will love More Than Words.
Book Info:

Publication: June 12th 2018 | Forever |
No one lays open the heart and soul quite like New York Times bestselling author Mia Sheridan.
The moment she met Callen Hayes, eleven-year-old Jessica Creswell knew he was a broken prince. Her prince. They became each other's refuge, a safe and magical place far from their troubled lives. Until the day Callen kissed her–Jessica's first real, dreamy kiss—and then disappeared from her life without a word.
Years later, everyone knows who Callen Hayes is. Famous composer. Infamous bad boy. What no one knows is that Callen's music is now locked deep inside, trapped behind his own inner demons. It's only when he withdraws to France to drink his way through the darkness that Callen stumbles into the one person who makes the music return. Jessica. His Jessie. And she still tastes of fresh, sweet innocence . . . even as she sets his blood on fire.
But they don't belong in each other's worlds anymore. There are too many mistakes. Too many secrets. Too many lies. All they have is that instinctive longing, that need—and something that looks dangerously like love.