His Reluctant Rancher by Roxanne Snopek is a sweet continuation to Three River Ranch, staring Zach and Desiree, Rory's and Carson's respective best friends.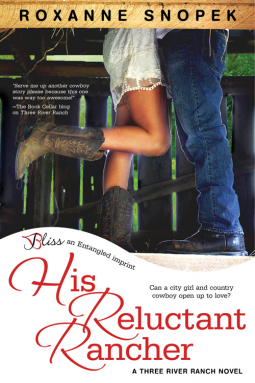 Desiree Burke has always been a city girl, expecting the best life can offer and every luxury available. After a childhood full of misery, she has built a hard shell to protect her heart. She doesn't want anything permanent with anyone and being a physical therapist is her dream job, for it gives her the control she wants, the lack of permanency and her freedom to go where she wants when she wants. Until an unfortunate claim of wrongful treatment, that makes her run to her friend Rory, who will send her to use her skills to help Zach's dad.
Zach Gamble has had recent tragedies in his family that are threatening their economic well being as well as his mental stability. An unfortunate accident where his brother died and his father suffered several injuries that have left him with little ability to communicate and move. Now Zach has the full weight of holding up the family business and taking care of everything or risk loosing it all. With little insurance and money to pay for therapy, they have everything riding on Desiree to help Joe heal.
Now Desiree is there to help with the therapy for Zach's father, she is their only hope for them not to loose everything. But the attraction they felt before is not something that Zach feels that he deserves to act upon, for he blames himself for  all the recent tragedies. He has too many responsibilities and he won't risk his family any more. But he is not the only one that has things that he has to take care of or that is hiding and running from, for Desiree has her own demons to face.
If Zach and Desiree are to have their HEA they will have to face all their fears along with their past and see that they are worthy of the love of others.
Rating:
Book Info: Publisher: Entangled Publishing (Bliss) February 10, 2013
The last place city girl Desiree Burke expected to find herself was living at and working on a ranch, much less butting heads with the ranch's sexy cowboy owner, Zach Gamble. But that's exactly where she ends up after an incident at work leads her to her best friend Rory's doorstep. Desiree is a gifted physical therapist, and Rory knows exactly where her brand of tough love is needed the most.

Zach's been through hell and back. A devastating car crash left his brother gone, his father paralyzed, and him with mental scars a mile wide. His survivor guilt alone makes him sure he doesn't deserve to find love. But as Des works her way into his ranch, his family, and his life, suddenly the last person who belonged there is the only one he believes belongs…with him.