The Seven-Day Target by Natalie Charles: With the title "The Seven Day Target" and the line in the opening paragraph "Hey, Nick. I heard you were in town for a few days. I found a body. We need to talk.", Natalie Charles sets the pace for some fast paced romantic suspense!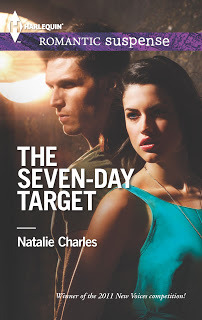 Nick, an FBI agent, has come 'home' to Arbor Falls for a funeral and fully intends to leave again quickly and quietly. As he is leaving though, the above body is found and it becomes clear that his former fiance Libby is another intended victim of the killer. Libby is someone Nick has never stopped loving and someone he has never been able to replace, even though she cruelly sent him packing 3 years ago. Libby didn't want to give up her life in Arbor Falls and move away with Nick…she also has a secret…so she decided Nick is better off without her.
But now he is back and has made it his mission to protect Libby from a killer. At first Libby refuses to take the subtle threat to her seriously, until circumstances force her to recognize not only the threat to her life, but the fact that her and Nick still have strong feelings for each other. Can Nick protect her? And will they have a second chance at love?
Natalie Charles kept me guessing to the end! Just when I thought I had it all figured out she managed to enhance the plot and throw me off! But let me tell you, I'd sure let Nick protect me! It took me a while to warm up to Libby…she certainly has her issues and how she treated Nick and kept secrets from him did not endear her to me, I spent some time quite annoyed with her! Her character really developed through the book though. Her sister Cassie was much more likeable for me, and I really enjoyed the little views into her life.
I did enjoy this book, it was a smooth read with no parts that dragged out too much, so it was fun to read through to the end!
Rating:
Book Info: Publication Date: April 2, 2013 | Series: Harlequin Romantic Suspense (Book 1750)
Love never dies, but can it kill?He never meant to speak to her again. Back in Arbor Falls for a funeral, Special Agent Nick Foster has moved on. He has no plans to stay in his tiny hometown—or to reunite with the beautiful Libby Andrews. His onetime fiancée broke his heart, and what's past should stay buried.Libby doesn't want his help. Her childhood sweetheart can never know the real reason she ended their engagement three years before. But when a serial killer targets her, she must team up with the rugged agent for her own safety. Something in her past has put her in danger, and the passion they've reignited puts their future in deadly jeopardy.