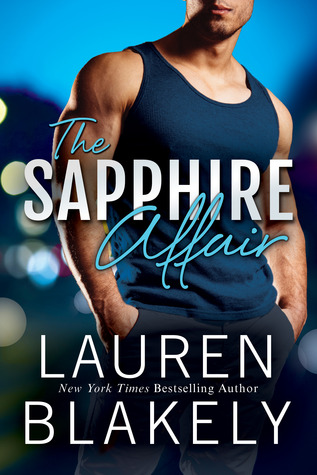 The Sapphire Affair by Lauren Blakely is beautifully described with its vivid details and lovely surroundings. This romantic suspense is filled with sexual tension, flirty banter, and a worthwhile buildup.
Steph Anderson is on a mission. She's visiting the Caymans to do a little recon. She needs to find out if her stepfather embezzled money from his company. Her mom needs answers, especially after he took all her money during their divorce. She doesn't want her stepfather to be guilty but all signs point out that he is.
Jake Harlowe tracks down criminals for a living. He's former military intelligence and tries to make the most out of his jobs. When he gets word that Eli Thompson, is stealing from his own hedge fund, he jumps at the job. Considering the amount Eli supposedly stole is around ten million, the money Jake would make on this case is pretty hefty and enough to take care of his siblings.
When Jake and Steph meet the attraction is immediate.
"Her heart raced. Her blood pumped. She craved him fiercely. Which was absolutely looney, since he was a total stranger."
They both have jobs to do, but there is no harm in throwing a little fun into their nights, is there? Well, sooner or later the truth comes out about why they are both in the Caymans and they decide to work together. Can they work together as a team to figure out what is going on, or is their lack of trust in one another going to be their downfall?
Lauren Blakely is not a new author to me, but this book is kind of tame compared to her other books. Which is a good thing, if that's what you are looking for. It also ends on a cliffhanger, so beware. Overall, The Sapphire Affair is an easy read to pass the time with. I'm intrigued to find out how the book plays out, so I will definitely be checking out the next book when it releases.
Book Info:

 July 12, 2016 | Montlake Romance | Jewel #1
Bounty hunter Jake Harlowe knows how to track a criminal. So when a group of swindled shareholders hires him to trail their former CEO, Jake expects a quick trip to the Cayman Islands to close another case. Until a devastatingly beautiful woman gets in the way.
Steph Anderson is visiting the Caymans for a rock climbing and dive trip—or so she tells Jake. She's really trying to find out whether or not her stepfather embezzled money from his company. The last thing Steph needs is the distraction of a sexy, charming man whose kisses drive her wild.
Soon, the pair discover they're after the same target—and millions in jewels. While Jake can't be certain Steph isn't working for her stepfather, and Steph can't be certain Jake isn't after the diamonds for himself, they can agree the heat between them is intense, and neither can deny the passion for long.
But the morning after, Steph discovers that she just might have slept with the enemy, and now she'll have to outwit him to get everything she needs…