His Temporary Assistant by Taryn Quinn Preston Shaw is all work and order all the time, with his sole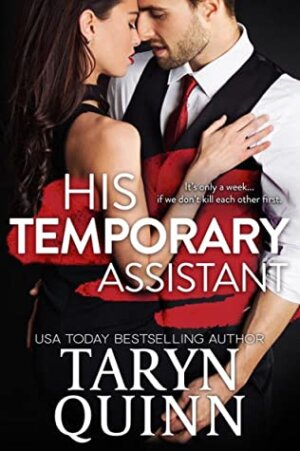 focus being taking his father's firm to new heights, the very last thing Preston needs is for his assistant to decide to up and go on vacation. All hope is not lost as she has left her best friend Ryan Moon as her replacement. However things don't get of to a smooth start with Ryan and Preston rubbing each other up the wrong way, with their polar opposite personality clashing at every turn one thing neither can deny is their insane attraction to each other.
"It's a witchy wine maker from Luna Falls. I mean, the town has my name. I had to try it."
He was certifiably the most annoying man that Ryan has ever had to deal with, heck his initial even spelt out PMS! It was like he was her own personal devil, however even more annoying are these tingly feelings that she keeps getting when ever he is around. Soon Ryan finds herself questioning how can such a stuffy suit cause her heart to flutter like an infatuated teen girl?
"Ryan's sexy voice saying the word cock ranked up there with some of the hottest fantasy material I'd ever encountered."
Oh my goodness was this book just the perfect little treat! His Temporary Assistant was a witty, banter packed romcom like no other. I absolutely love a good opposites attract romance and this was just a perfect showing of this trope with Ryan and Preston being complete opposites of each other.
Ryan has to be one of my new favorit female leads, I absolutely loved her magical moments! She was the perfect free do it for me spirt, living her best life for herself. I loved that she read tarot and that Preston was convinced that she put a hex on him. I loved her snarky barbs that constantly got under Preston's skin only increasing their steamy banter.
I loved that both of these characters were kind of closed of to the idea of love and relationships that is until they crashed into each other. It was just the perfect steamy mix of snarky banter and smoldering moments. I have to say the secondary character were top notch, I can not wait to see who get their book next (we need them all!!).
I would definitely reading this steamy opposites attract romcom, you will instantly love Ryan and all her craziness and the growly Preston.

QOTD: Do you like a bit of magical adventure in your romance?

Book Info:

Publication: March 25th 2021 | Rainbow Rage Publishing | Kensington Square #1
To whom it may concern: I quit.
Preston Michael Shaw.
PMS, as I like to call him.
I don't need his job. I don't need his fancy designer suits or his arrogance or his claims that I put a hex on him, because of course a strong, empowered woman needs to put a spell on a man.
As if I want him.
Pfft. He should be so lucky.
I definitely don't need his irritating demands for caramel-coconut coffee or his fixation on being on time.
Spoiler—I'm not, ever.
I certainly don't appreciate how his touch singes my skin. Literally.
I need to stop obsessing about him. It's just hormones.
One roll in the silk sheets and I'll be over him.
But we can't sleep together until my best friend—his real assistant—comes back from vacation.
Damn his admirable morals and my flaming panties.
And now I've been cursed, because I can't resist the hottest, most annoying man I've ever known…