His to Love by Stacey Lynn brings two high school sweethearts back together in this tension filled romance.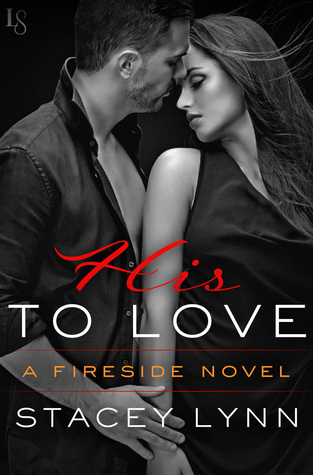 Tyson Blackwell works for the FBI and his next case hits a little close to home. His mission is to keep tabs on his former girlfriend and gain any advantage he can to bring down her Mafia family. The only problem is that the former girlfriend is the only woman he's never gotten over, the only one's he's ever loved. Gabriella Bluejay Galecki is back in town after a ten-year absence and it's up to Tyson to get close to her. Tyson never knew why Bluejay abruptly left him and he intends to find out why while doing his job. Tyson is the only person who can bring the Galecki association down, besides it's personal for Tyson since they killed his father.
Gabriella is heading back home because her mother is dying from cancer. On her flight there, she gets a surprise from her past. Gabriella has never forgotten Tyson. When she left him all those years ago, it was because she believed he was using her to bring down her family. At the time. it wasn't true but presently that's exactly what Tyson plans on doing. Gabriella stays in the dark about Tyson's true career until the shit hits the fan…and let me tell you, it's not pretty. Will Tyson and Gabriella have a chance at a future when secrets come to light?
I enjoyed Tyson and Gabriella and loved how they each had their own nicknames. Bluejay and Blackbird prove that true love can survive just about anything. The plot was very intriguing and had me turning the pages at a fast rate. I only wish the story was longer and contained more action scenes. It would have really made a difference.
If you enjoy romances that associate with the Mafia, second chances, and betrayal, this should be your next read.
Book Info:

Publication: May 10th 2016 | Loveswept | Fireside #1
Tyson Blackwell never saw it coming when his Mafia princess girlfriend dumped him and disappeared at the age of eighteen. He never forgot her, either, even after what happened next: the killing of his father, a Detroit PD officer, at the hands of one of her father's men. Tyson swore revenge, and now, ten years later, the kid who dreamed of a pro football career is a hard-nosed FBI agent, back in town to take down the Galecki crime family once and for all. But Tyson's mission gets complicated fast—because going undercover means seducing the only woman he's ever loved.
Gabriella "Blue" Galecki has been in hiding for a decade. She finally comes home to spend time with her terminally ill mother, only to receive a blast from the past when she runs into Tyson. His brooding eyes and electrifying touch still send chills down her spine. But as heir to the family empire, Blue has been promised to another. Caught in a web of deception, she is tempted to pull the trigger on the boldest risk she's ever taken: trusting Tyson with her life, her body, and her heart.