Hold Me Today by Maria Luis is the first book in the Put A Ring On It series, and honestly, the first book I've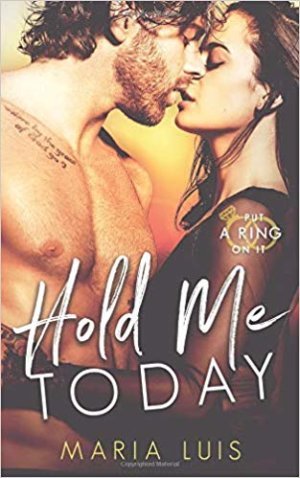 read by this author. I had no illusions going into this story, but came out of it with a genuine smile on my face and a new author to follow. Hold Me Today, soared to the very top of my precious "favorite" pile and that's not something that is easily done. It's one of those books that you wish you could read over, for the very first time.
Put A Ring On It, is a reality show, similar to the Bachelor, just a low grade version. Nick Stamos agreed to do the show to find love, but when it comes down to the end, he doesn't find her on the show. He finds love with who he least expected.
Nick is a closet romantic and he truly believes in love. He's a great guy, but still nursing some hurt feelings from when his college sweetheart walked out of their wedding. Despite that, he's not willing to settle down with just anyone.
When Mina Pappas has her renovation money stolen, she's convinced she's hit rock bottom. She needs the renovations at her new salon done, but without any money, it's a pipe dream. Except, there might be one person who could do the job, and that's Nick. If she had any other way to get her salon up and running she would take it, but that's just not the case. Having to deal with Nick, isn't something Mina likes to do. And it's not because he's a bad guy, because he's not. Mina had a huge crush on Nick for years, despite him being her best friend's older brother, but he never returned her feelings.
Turns out Nick is getting some extra attention due to the reality show, and he wants to stay under the radar. Having a girlfriend will get them off his back, or so he assumes. He's done with dating, but pretending is a different story. Nick agrees to help renovate Mina's salon if she agrees to pretend to date him. Mina and Nick get closer than ever during this arrangement and learn that what they though they knew about each other, is vastly different from how they actually are.
Mina is definitely one of my all-time favorite heroines. The best part of Mina, is that she didn't pine for him. She went out with other men and didn't allow herself to mope. Mina and Nick were interesting in the beginning. Neither one would give an inch as they fought to get the last word in. These two are opposites in every way, but the whole saying about opposites attracting is very real for these two!
I loved learning about the character's Greek heritage and I acquired some new terms, which is always a plus. The banter between the Mina and Nick continuously kept me smiling. I've read Hold Me Today, a few days ago and the characters are still fresh and vibrant in my mind. Unforgettable characters, witty banter, and one heck of a romance, make Hold Me Today a MUST READ!
Book Info:

Publication: January 17th, 2019 | Pub: Alkmini Books, LLC | Put A Ring On It #1
Rock bottom has never felt so good.
At least, that's what I tell myself when I bargain with the enemy and score a renovation for my hair salon.
The enemy? Nick Stamos, my best friend's older brother.
He's got a body and face the Greek gods would envy but his personality needs a major overhaul.
He's surly.
A rule-follower.
Did I mention he's seen me naked?
I may have crushed on him for years, but the only place I want Nick swinging his hammer nowadays is at my salon.
Except, he needs something in return. . .
A fake girlfriend.
And I'm just reckless enough to say yes.
Hold Me Today is the first book in the highly anticipated series, Put A Ring On It.