In Catching the CEO (The Billionaire's Second Chance #3) by Victoria Davies, Damien Reid and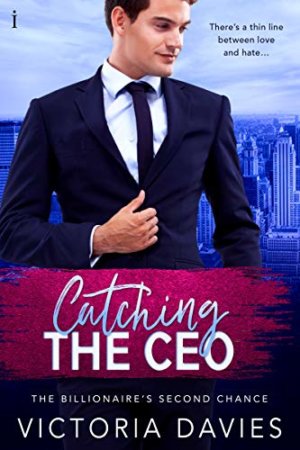 Caitlyn Brooks are rival CEO's for their family pharmaceutical companies. However, during a week long conference, they find themselves giving into the strong chemistry that exists between them. Yet, on returning home, things were meant to go back to business as usual. But that's easier said than done, especially when neither can forget about the other. Will Damien be able to win Caitlyn's heart or will he end up breaking it instead?
Worried about spending time with me? My charm is legendary."
"Just like your humility."
"Where's the fun in being humble? I take pride in my accomplishments just as you should. Like that ad campaign you ran last quarter for your new arthritis drug. Very clever."
Ms. Davies writes fantastic stories encompassing billionaires and the feisty women that challenge them and I believe this story is one of her best. The way this story started had me completely hooked because of the rivalry between Damien and Caitlyn, which creates wonderful chemistry between the pair. They both run their family pharmaceutical company and getting one-up on the other is constantly the goal. Will Damien finally be able to wipe out the competition or will Caitlyn be the victor?
As for the dialogue, it was intense due to the main characters back stories and the obstacles these two face to be together because they're rivals. Their families wouldn't be happy if they were together because business always comes first and not relationships, especially not one between families that are rivals like Damien and Caitlyn's are. Moreover, both the main characters were relatable, likeable and their growing relationship was so much fun with the pair doing their best to resist each other because they're rivals but finding themselves continually in each other's company.
"That's not a word that could ever be applied to you. Prideful, stubborn, diabolical, sure, all those fit. But it's not weakness to need other human contact. That's just a basic necessity."
He held her gaze for a long moment before saying , "Not in the Reid household."
"Then as an intelligent adult, you should see that trait for the nonsense it is and correct it."
"Have any candidates in mind for my new family?"
Her eyes narrowed. "Don't be mean. You know I'm right."
With the main characters, the heroine is strong, brave, smart, driven, feisty and I liked how much of a challenge she provided the hero. Certainly, she knows how to get under Damien's skin just as much as he knows how to get under hers and their interactions had me smiling, as they get closer and closer. While the hero, he's driven, smart, confident and I liked how determined he was to win the heroine over, even knowing that isn't going to be easy because keeping their companies thriving is important to them and should come first.
Overall, Ms. Davies has delivered a very entertaining read in this book where the chemistry between this couple was intense and convincing; the romance was full of heat and passion; and the ending had me loving what the hero does to prove to the heroine that she's the one for him and nothing and no-one will get in the way of the pair being together. Certainly, tough choices are to be made and I'm so glad Damien made the one he did when it came to his mother because that woman is a witch. Besides, love is thicker than blood and he's better off with the heroine in his life than his mother. However, it was the epilogue that wrapped this story up perfectly because this pair have finally found the love they both deserve. I would recommend Catching the CEO by Victoria Davies, if you enjoy the enemy to lovers trope or books by authors Hayson Manning, Miranda Liasson, Alexia Adams and Susan Meier.
Book Info:

Publication: February 11th, 2019 | Entangled Indulgence | The Billionaire's Second Chance #3
There's nothing quite like being trapped with the one man you can't stand…
Caitlyn Brooks can't believe her luck when her biggest rival turns up at an out of town conference she's attending. CEO of the company threatening to take hers down, she wants nothing to do with Damien Reid or his billions. But the man behind the boardroom is so much more than she imagined.
Damien can barely believe it when Caitlyn shows up at the conference reception. He has no desire to spend a moment longer with the infuriating woman than he has to. Except he can't seem to stop his eyes from following her or the unnerving need to ruffle her perfect feathers. When teasing turns to touching, he's not sure if it's the best or worst mistake of his life.
There's no denying their companies are on a collision course and their hearts might not survive the fallout.