Holiday Amnesia (Wrangler's Corner #7) by Lynette Eason is the seventh book in her Wrangler's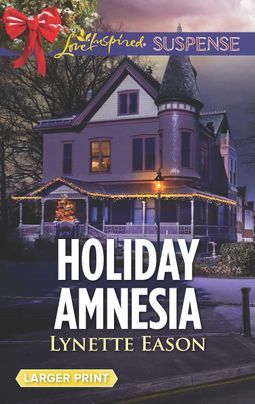 Corner series. This can be easily read without having to read the previous books in the series.
"Those are voices I am hearing. I shouldn't be hearing voices. I thought I was alone in the lab." Dr. Robin Hardy is having these thoughts just before cautiously going to investigate. She finds a coworker having a very unsettling discussion with another man. Then – bang! She has witnessed a murder. Bang! Bang! More gunshots just outside the entrance to the lab. This shooter sees her and starts chasing her through the lab. Robin runs into the men's room trying to evade her pursuer. BOOM! An explosion and fire. Robin is knocked about then finds herself trapped. She finally manages to escape the burning building. Unfortunately this is just the beginning of her problems.
Professor Tony Potter is driving by the lab building on campus and notices Robin's car in the parking lot. He knows Robin is not the least bit happy with him at the moment. He hears the boom and sees the smoke and flames. "Robin is in there I've got to get her out," are his first thoughts. He does finally find Robin after her escape from the burning building. Now they go on the run to keep Robin safe. Tony is a former CIA agent. He can protect her. Can't he?
The author starts this story with lots of action and the action and suspense continue throughout. Her storyline is well-thought-out with interesting plot twists. She has written strong, fascinating characters in Robin and Troy. I love how Robin stands strong and doesn't let anyone boss her around. Tony is very brave and courageous. This story is definitely a page-turner. It was great getting to read about characters from earlier books in the series.

Book Info:

Publication: December 4th 2018 | Love Inspired Suspense  | Wrangler's Corner #7
With no memory, who can she trust?
A deadly Christmas in Wrangler's Corner
Robin Hardy survived an explosion in her university lab—but her memories are gone. With danger lurking behind every Christmas tree, she needs shelter from the attackers she can't identify. She'll trust fellow professor Toby Potter to safely hide her away. But when his secrets come between them, the truth could mean the difference between life and death this holiday season.