In Luke's Gift (Harlow Brothers #2) by Kaylie Newell, Luke Harlow is out of the military and home for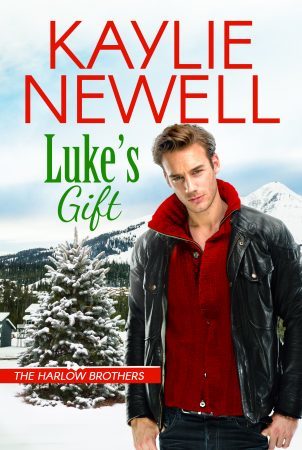 good in Marietta, Montana. Working as a police officer for the town, he finds himself interacting with just about everyone including Mary Best, the town's best reporter. However, if there's one thing about Luke, it's that he's a mystery; one she's determined to learn more about, especially with someone secretly giving out Christmas gifts to people in need. Will Mary get to the bottom of who is playing Secret Santa or is uncovering the truth not all that important when it gives her a shot at happy ever after with Luke?
"Robin Hood Santa," he said, his voice low. "I like that."
"Except you're not stealing from the rich."
Luke grinned wider and slapped Tanner on the back. "Borrowing little brother. Only borrowing."
Having really enjoyed the first book of this series, I couldn't wait to read more about the Harlow brothers and what they're willing to do for their little sister who needs her big brothers and I've got to say that this story was an absolute delight because of the tight sibling bond between Luke and his little sister and the growing relationship between Mary and Luke, as she begins to realize that she could have finally met someone that she can completely trust. Will Luke end up disappointing her?
The way this story started had me sympathizing with the heroine, as she's good at her job and to find someone unwilling to accept the truth isn't easy to handle. However, it was from the moment the hero and heroine come face-to-face for the first time where this story really takes off, as Mary finds something even more interesting to write about. Will Luke give her a chance to write his story? Will Mary uncover who is the town's Secret Santa? Moreover, I absolutely loved Luke because he's a bit of an enigma, which is understandable considering all that he's been through and it's a wonder he doesn't like attention. I also liked the hero's selflessness, the growing bond he shared with his sister and the way he's determined to get to know the heroine. Then again, will letting her get too close lead to disappointment?
While the heroine, she doesn't trust easily because of her parents relationship and the fact that her father's an ex-cop, which makes her extra cautious. Will not trusting Luke lose her the man she's falling in love with? Yet, in saying that, I liked her resilience, her courage and her drive to get to the truth when it comes to her career. Really, she's like a dog with a bone and doesn't give up until she's gotten to the bottom of the Secret Santa mystery. I also liked that the heroine gave the hero a chance, even though it's palpable to her that he's hiding something.
"Is that a gun in your pocket, Officer? Or are you just happy to see me?"
Remembering the earrings, he laughed and pulled out the box. "It's not as awesome as your present to me," he said. "But I thought they looked like you. Very Lois Lane."
She unwrapped it and gasped when she saw the pearls. "Oh, Luke," she said. "They're perfect. The most perfect gift ever."=
He brushed her jaw with his thumb. "Thank you. For looking deeper and understanding where I was coming from. You're a great journalist, Mary."
Overall, Ms. Newell has delivered a wonderfully-written and utterly enjoyable read in this book where the secondary characters entertained me just as much as the main ones, especially the hero's little sister with her opinions and advice; the chemistry between this couple was strong and just keeps getting stronger the more these two interact; the romance was delightful and had me enjoying these two together; and the ending had me loving the determination of the hero and heroine to make things right between these two, especially after what the heroine does to get the hero's attention. However, it was the epilogue that wrapped this story up brilliantly, as Luke is such a good guy and I loved how good he is at helping people. I would recommend Luke's Gift by Kaylie Newell, if you enjoy small town romances, mysterious strangers trope or books by authors Joan Kilby, Jeannie Moon, Sinclair Jayne and Lara Van Hulzen.
Book Info:

Publication: November 1st, 2018 | Tule Publishing | Harlow Brothers #2
After serving in the Army, Luke Harlow returns home in time for the holidays to help his brothers raise their twelve-year-old half-sister. With his new job as Marietta's police officer, Luke finds himself in the middle of a festive mystery that the entire town will want solved before Christmas morning.
Mary Best is Marietta Courier's most promising young reporter. When she starts spending time with sexy Luke Harlow to write an article about his heroic military service, she begins to suspect there's more to this new police recruit than meets the eye. He's kind, generous, and very mysterious. When anonymous gifts start appearing around town for people in need, Mary knows there's a story there. A magical one. It doesn't take long for the breadcrumbs to lead right back to Luke.
As the gifts pile up, so does everyone's urge to unmask Marietta's secret Santa. Luke is deeply private, and Mary is deeply curious- opposites who'll find themselves tumbling toward each other amidst the snowy backdrop of a town fully embraced in the spirit of Christmas. But when Mary uncovers Luke's secret, will she be able to bury her reporter's instincts for the sake of love? And will Luke finally be able to trust someone with his heart?